Tuesday, June 15, 2021
Chief Deputy Tax Collector (Promotional)
Recruitment #21-0070-01
| | |
| --- | --- |
| Date Opened | 5/28/2021 12:00:00 AM |
| Filing Deadline | 7/9/2021 5:00:00 PM |
| Salary | $63.18 - $76.66/hour; $131,414.40 - $159,452.80/year |
| Employment Type | Permanent Full-Time Employment |
| HR Analyst | Erika Beams |
| Department | Treasurer-Tax Collector |
| Work Location | Oakland |
Introduction
YOU MUST BE AN ALAMEDA COUNTY EMPLOYEE TO APPLY
THIS IS A NEW PROMOTIONAL ASSEMBLED EXAMINATION.  The eligible list resulting from this examination will cancel any existing list and may last approximately one year but can be extended. Qualified applicants must be current county employees and have completed the equivalent of six months of continuous service following a regular appointment in the Alameda County classified service (non-classified includes the District Attorney's Office, the Medical Center, and the Superior Court) by the last day of filing.  A regular appointment does not include provisional, TAP (Temporary Assignment Pool), or STEP-UP appointments.
Applications must be in the possession of the Human Resource Services Department by 5:00 p.m. on the Last Day for Filing. 
 Applications will only be accepted on-line.
DESCRIPTION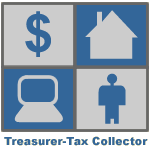 THE AGENCY
The Treasurer-Tax Collector Department's mission is to provide County departments and all other depositing agencies with secured and convenient countywide central banking facility and countywide treasury administration services, including the investment of monies on deposit with the Treasurer in the Treasurer's Investment Pool, provide real estate and personal property tax billing and collecting services, provide business licensing services in the unincorporated areas of the County, and provide in-house administration of the County's deferred compensation plan programs for eligible employees.
The Treasurer serves as the depository for all funds belonging to the County, school districts, and other special districts within the county. Operating primarily under Government Code, the Treasurer receives, deposits, and manages investments for nearly $7 billion generated from taxes, fees, grants, and bond proceeds annually. 
Under the Treasurer's leadership, the Investments and Cash Management Division actively manages an Investment Pool of cash reserves for all County agencies, school districts and special districts. With approximately $6 billion in assets, the Investment Pool is invested in fixed income securities that are legally permitted by California Government Code and also meet the criteria of the Alameda County Treasury's Investment Policy.
 The primary objectives of the Investment Pool are:



1.     Safeguard Principal

2.     Maintain liquidity to meet cash flow requirements

3.     Achieve a reasonable rate of return consistent with these objectives
The Treasurer issues a monthly investment report with details on characteristics on the pool including total assets under management, current holdings in the pool, and the rate of return.
THE POSITION 
Under direction, to plan, organize, coordinate, direct and review the procedures, policies and services of the Tax Collector division of the Alameda County Treasurer-Tax Collector Department.  This includes monitoring the activities of all the units under the Tax Collector, which are the secured and unsecured current property tax, secured delinquent property tax, tax defaulted, collection enforcement and the business license and performing other duties as required.
For a detailed listing of the essential responsibilities and core competency requirements for this position, please click here for the full job description.
MINIMUM QUALIFICATIONS
EITHER I  
Experience:  
The equivalent of two (2) years of full-time experience in the class of Treasurer-Tax Collector Administrator in the Alameda County classified service.  
OR II  
Experience:  
The equivalent of six (6) years of full-time experience in the class of Collection Supervisor II in the Business License Unit or six (6) years of experience in the class of Treasurer-Tax Collector Supervisor both classes within the Office of the Treasurer Tax Collector.  
OR III
Education:  
Possession of a bachelor's degree in Finance, Accounting, Business Administration or another relevant degree from an accredited college or university.
AND  
Experience:  
The equivalent of four (4) years of increasingly responsible full-time experience in a management or supervisory capacity directly responsible for overseeing through subordinate supervisors and staff in the collection of property taxes or business license taxes or any other kinds of taxes or fees preferably with a government entity.  
NOTE:  The Civil Service Commission may modify the above Minimum Qualifications in the announcement of an examination.
KNOWLEDGE AND SKILLS
The most suitably qualified candidates will possess the following competencies:
Knowledge of:
California Revenue and Taxation Code.

California Government Code.

State and Federal laws and regulations on collection and collection enforcement.

State Controller's Reference Manual.

Ordinances for Business License Tax, Utility Users Tax, and Hotel and Lodging Tax.

Statutes of Interest.

Tax data processing systems.

Business Correspondence.

Principles of Supervision and personnel management.

Modern office organization, administration and practices.  
Ability to:
Demonstrate leadership.

Plan, organize and administer laws, policies and procedures in the collection of property and business license taxes.

Make decisions and use good judgment.

Analyze and evaluate information and data for problem solutions and for completion of reports and requests within and outside the department.

Establish and maintain cooperative relations with peers, staff, county departments and agencies, community groups and the general public.

Collaborate with other departments and agencies.

Provide the highest level of service to diverse customers.

Communicate effectively and clearly verbally and in writing; utilize and apply correct English usage, grammar, spelling, vocabulary and punctuation.

Promote personal and professional growth for self and others.
EXAMINATION COMPONENTS
The examination will consist of the following steps:
A review of the candidates' application to verify possession of minimum requirements. Those candidates who possess the minimum requirements for the class will move on to the next step in the examination process.

An oral interview which will be weighted as 100% of the candidates' final examination score. The oral interview may contain situational exercises.
Candidates must attain a qualifying rating on each portion of this recruitment. 
WE RESERVE THE RIGHT TO MAKE CHANGES TO THE ANNOUNCED EXAMINATION STEPS.
Alameda County utilizes a Civil Service Selection System founded on merit.  Such a system is competitive and based on broad recruitment efforts and equal opportunity for qualified applicants to test in an examination process designed to determine the qualifications, fitness, and ability of competitors to perform duties of the vacant position.  Many of our recruitments are targeted and specific to the needs of a current vacant position, in which case, the eligible list may be exclusively used for that current vacant position.  Other recruitments may be more broadly used for both current and future vacancies, or for other alternate jobs with comparable scopes of work. 
To learn more about our recruitment and selection process, please visit the "What You Need to Know" section of our website, www.acgov.org/hrs.
Selection Plan
Applicants will be informed via email with reasonable notice in advance of any examination process which will require their attendance.  The following dates are tentative and subject to change based on the needs of the Agency:
 Deadline for Filing:                                                                                 

                      5:00 p.m., Tuesday, June 22, 2021 
Friday, July 9, 2021 

 Review of Minimum Qualifications:

 by Friday, July 2, 2021
TBD

 Oral Interviews*: 

 TBD
*The combined oral examination/hiring interview, in addition to establishing an eligibility list, may serve as the final selection interview for vacancies in this classification.
WE RESERVE THE RIGHT TO MAKE CHANGES TO THE ANNOUNCED RECRUITMENT & SELECTION PLAN
Alameda County and the Human Resource Services Department will make reasonable efforts in the examination and/or selection process to accommodate qualified individuals with disabilities and/or medical conditions in accordance/compliance with the State Fair Employment and Housing Act (FEHA), Federal Americans with Disabilities Act (ADA) Alameda County's Reasonable Accommodation Policy and applicable statutes.  To request an accommodation due to a disability/medical condition during this or other phases of the examination/selection process, please contact the assigned Human Resources Representative listed on the job announcement before the last date of filing.   Alameda County requires applicants to provide supporting documentation to substantiate a request for reasonable accommodation. In order to qualify for a reasonable accommodation, applicants must have a disability/medical condition pursuant to the ADA, FEHA and applicable statutes. 
For more information regarding our Reasonable Accommodation procedures, please visit our website, www.acgov.org/hrs. 
BENEFITS
Alameda County offers a comprehensive and competitive benefits package that affords wide-ranging health care options to meet the different needs of a diverse workforce and their families. We also sponsor many different employee discount, fitness and health screening programs focused on overall well being.  These benefits include but are not limited to*:
For your Health & Well-Being
Medical – HMO & PPO Plans

Dental – HMO & PPO Plans

Vision or Vision Reimbursement

Share the Savings

Basic Life Insurance 

Supplemental Life Insurance (with optional dependent coverage for eligible employees)

Accidental Death and Dismemberment Insurance 

County Allowance Credit

Flexible Spending Accounts - Health FSA, Dependent Care and Adoption Assistance

Short-Term Disability Insurance

Long-Term Disability Insurance

Voluntary Benefits - Accident Insurance, Critical Illness, Hospital Indemnity and Legal Services

Employee Assistance Program
For your Financial Future
Retirement Plan - (Defined Benefit Pension Plan)

Deferred Compensation Plan (457 Plan or Roth Plan)
For your Work/Life Balance
11 paid holidays

Floating Holidays

Vacation and sick leave accrual

Vacation purchase program

Management Paid Leave**

Catastrophic Sick Leave

Group Auto/Home Insurance

Pet Insurance

Commuter Benefits Program

Guaranteed Ride Home

Employee Wellness Program (e.g. At Work Fitness, Incentive Based Programs, Gym Membership Discounts)

Employee Discount Program (e.g. theme parks, cell phone, etc.)

Child Care Resources

1st United Services Credit Union 
*Eligibility is determined by Alameda County and offerings may vary by collective bargaining agreement.  This provides a brief summary of the benefits offered and can be subject to change.
** Non-exempt management employees are entitled to up to three days of management paid leave. Exempt management employees are entitled to up to seven days of management paid leave.
Conclusion
All notices related to County recruitments for which you have applied will be sent/delivered via email. Please add @jobaps.com, acgov.org and Noreply@jobaps.com as accepted addresses to any email blocking or spam filtering program you may use. If you do not do this, your email blocking or spam filtering program may block receipt of the notices regarding your application for recruitments. You are also strongly advised to regularly log into your County of Alameda online application account to check for notices that may have been sent to you. All email notices that will be sent to you will also be kept in your personal online application account. You will be able to view all of your notices in your online application account by clicking on the 'My applications' button on the Current Job Openings page.
Please take the steps recommended above to ensure you do not miss any notices about a recruitment for which you have applied. The County of Alameda is not responsible for notices that are not read, received or accessed by any applicant for a County recruitment.
NOTE: All notices are generated through an automated email notification system. Replies to the email box Noreply@jobaps.com are routed to an unmonitored mailbox. If you have questions, please go to our website at www.acgov.org/hrs. You may also contact the Human Resources Analyst listed on the job announcement for the recruitment for which you have applied.

Erika Beams, Human Resources Analyst 
Human Resource Services Division, County of Alameda
Erika.Beams@acgov.org
510-272-6393
www.acgov.org/hrs
DISASTER SERVICE WORKER
All Alameda County employees are designated Disaster Service Workers through state and local law.  Employment with the County requires the affirmation of a loyalty oath to this effect.  Employees are required to report to work as ordered in the event of an emergency.
EQUAL EMPLOYMENT OPPORTUNITY
Alameda County has a diverse workforce, that is representative of the communities we serve and is proud to be an equal opportunity employer.  All aspects of employment are based on merit, competence, performance and business need. Alameda County does not discriminate in employment on the basis of, race, color, religion, sex (including pregnancy and gender identity), national origin, political affiliation, sexual orientation, marital status, disability, genetic information, age, membership in an employee organization, retaliation, parental status, military service, or other non-merit factors protected under federal, state and local law. Alameda County celebrates diversity and is committed to creating an inclusive, and welcoming workplace environment.
Click on a link below to apply for this position: