Collection Enforcement Deputy I
Treasurer-Tax Collector
Recruitment #RT-1420-01
| | |
| --- | --- |
| Date Opened | 3/11/2022 12:00:00 AM |
| Filing Deadline | Continuous |
| Salary | $28.73 - $34.02/hour; $56,023.50 - $66,339.00/year |
| Employment Type | Permanent Full-Time Employment |
| Department | Treasurer-Tax Collector |
| Work Location | Oakland |
Introduction
This is a reinstatement, transfer or voluntary demotion opportunity for current and former regularly appointed employees of Alameda County.
Reinstatement:
Pursuant to Civil Service Rule 1744: On the request of a department head and approval of the Commission, a regularly appointed employee who resigned in good standing may, within three years after the effective date of his/her resignation, be reinstated in a position in the class from which he/she resigned or in a position in another class for which he/she may be eligible as determined by the Commission. Appointments by reinstatement following resignation are subject to the probationary period established for the class. You must have been a classified County employee in the same job code or in a job code at the same salary maximum and left the County in good standing. In addition, you must meet the minimum and special qualifications of the specific position.

Transfer:
You must be a current County classified employee in the same job code or in a job code with the same salary maximum for which you are applying. In addition, you must meet the minimum and special qualifications of the specific position.

Voluntary Demotion:
You must be a current County classified employee in a job code which is at a higher salary maximum than the vacancy for which you are applying. In addition, you must meet the minimum and special qualifications of the specific position.
DESCRIPTION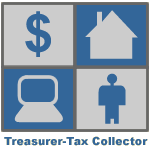 THE AGENCY

Treasurer-Tax Collector Department's mission is to provide County departments and all other depositing agencies with secured and convenient countywide central banking facility and countywide central banking facility and countywide treasurer administration services, including the investment of monies on deposit with Treasurer in the Treasurer's Investment Pool, provide real estate and personal property tax billing and collecting services, provide business licensing services in the unincorporated areas of the County, and provide in-house administration of the County's deferred compensation plan programs for eligible employees.
THE POSITION
Under general direction, to perform a wide variety of duties to facilitate collection on current and delinquent accounts; to effect collection through personal and telephone contact, correspondence and/or legal action; to prepare accounts for legal enforcement and attend court proceedings; to maintain collection records and documents; and to do related work as required. Classes include in this series are:

DISTINGUISHING FEATURES

These positions are located in the Central Collections Division of the Office of the Auditor-Controller; and in the Treasurer-Tax Collector's Department. Collection Enforcement Deputy II positions are flexibly staffed from Collection Enforcement Deputy I, based on meeting defined job performance standards. Collection Enforcement Deputy I's are distinguished from Collection Enforcement II's in that the latter are required to perform at higher job productivity levels for revenues collected, numbers of paying accounts, numbers of court actions, and the percentage of accounts over 120 days delinquent. Both classes are distinguished from the next higher class series of Collection Supervisor, in that positions in the latter classes act as working-level supervisors.

DEFINITION OF LEVEL

Positions at this level perform initial research on debtor accounts and related inside collections of such accounts. Incumbents verify information relating to the whereabouts, employment, earning, assets, liabilities and ability to pay of persons owing monies to the County. As necessary, they also prepare cases for legally enforced collections and appear in Court.
CLICK HERE
for the full job description.
MINIMUM QUALIFICATIONS
Either I

The equivalent of one year's experience as a Specialist Clerk or in an equivalent or high class in the Alameda County classified service (non-classified includes District Attorney's Office, Hospital Authority, and the Consolidated Courts), involving collection assignments.

Or II

The equivalent of one year's experience in collection work with responsibility for a collection file of at least 500 delinquent accounts.

License:

Possession of a valid California Motor Vehicle Operator's license.

NOTE: The Civil Service Commission may modify the above Minimum Qualifications in the announcement of an examination.
KNOWLEDGE AND SKILLS
The most suitably qualified candidates will possess the following competencies:

Knowledge of:

• General principles of collections enforcement and procedures.
• Federal and California laws and regulations pertaining to a wide variety of debt collection.
• Legal requirements for collection of delinquent accounts.
• Basic arithmetic to perform calculations and understand financial records.
• The English language (including spelling, vocabulary, sentence and paragraph structure) sufficient to prepare and edit reports, letters and other written communications.


Ability to:

• Research legal, financial and other records sufficient to obtain data needed to secure and enforce a wide variety of debt collection.
• Communicate effectively in writing (including spelling, vocabulary, sentence and paragraph structure).
• Communicate with persons from a wide variety of ethnic and social backgrounds sufficiently to explain legal processes and obligations and/or penalties for nonpayment of debts.
• Elicit information from hostile and/or uncooperative individuals.
• Organize work and establish priorities according to departmental operating requirements.
• Effectively manage time to perform multiple tasks.
• Work cooperatively with other staff, outside agencies and public so as to maximize collections in accordance with established policies and procedures.
• Operate standard office equipment, including a computer terminal.
BENEFITS
Alameda County offers a comprehensive and competitive benefits package that affords wide-ranging health care options to meet the different needs of a diverse workforce and their families. We also sponsor many different employee discount, fitness and health screening programs focused on overall well being.  These benefits include but are not limited to*:
For your Health & Well-Being
Medical – HMO & PPO Plans
Dental – HMO & PPO Plans
Vision or Vision Reimbursement
Share the Savings
Basic Life Insurance 
Supplemental Life Insurance (with optional dependent coverage for eligible employees) 
County Allowance Credit
Flexible Spending Accounts - Health FSA, Dependent Care and Adoption Assistance
Short-Term Disability Insurance
Long-Term Disability Insurance
Voluntary Benefits - Accident Insurance, Critical Illness, Hospital Indemnity and Legal Services
Employee Assistance Program
For your Financial Future
Retirement Plan - (Defined Benefit Pension Plan)
Deferred Compensation Plan (457 Plan or Roth Plan)
For your Work/Life Balance
12 paid holidays
Floating Holidays
Vacation and sick leave accrual
Vacation purchase program
Catastrophic Sick Leave
Group Auto/Home Insurance
Pet Insurance
Commuter Benefits Program
Guaranteed Ride Home
Employee Wellness Program (e.g. At Work Fitness, Incentive Based Programs, Gym Membership Discounts)
Employee Discount Program (e.g. theme parks, cell phone, etc.)
Child Care Resources
1st United Services Credit Union 
*Eligibility is determined by Alameda County and offerings may vary by collective bargaining agreement.  This provides a brief summary of the benefits offered and can be subject to change.
Conclusion
TO APPLY:  Please contact Sheila Green at (510) 272-6805 or sheila.green2@acgov.org .

You are encouraged to apply immediately as this posting is open until filled and may close at anytime.
Alameda County is an Equal Opportunity Employer