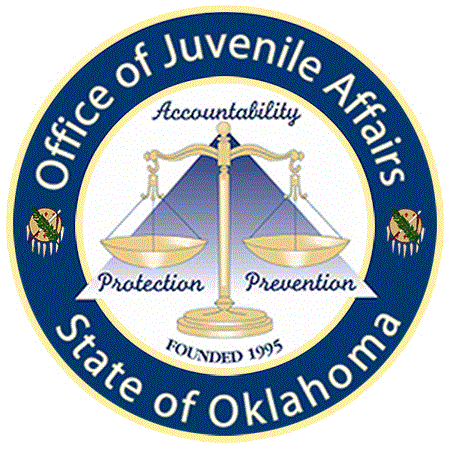 Application Instructions:
Submit one set of all of the following materials: 
A cover letter that must include the job announcement number (18-051); resume with copies of certificate(s) and college transcripts; and a complete listing of all qualifying educational and employment data, including complete dates, addresses and telephone numbers. 

Please submit three professional references, with telephone numbers to be reached during office hours, with your resume.
Send or Fax to:
Office of Juvenile Affairs
Attn: Human Resources
3812 N. Santa Fe, Suite 400
Oklahoma City, OK 73118-8500
Fax: (405) 530-2982
If you have any questions regarding this position or the application process, contact HR at (405) 530-2997 or Education Director Melissa White at (405)530-2882.
-----------------------------------------------------------------------------------------------------------------
 Position is located at the Oklahoma Youth Academy Charter School in Tecumseh, OK.
Salary: Commensurate with education and years of experience.
Oklahoma Youth Academy Teacher
We are looking for a Teacher for the 2018-2019 school year that wants to make a difference in young Oklahoman's lives. The class sizes are 7-10 students with Chromebooks for every student. Every classroom is equipped with a Smartboard and other technology resources.
We are a small school that works with students that have numerous academic challenges. Our instruction is technology driven in a small class setting.
We are very competitive in salary and we offer a generous benefit allowance which covers the state benefit package and teacher retirement.

We are located in Tecumseh, OK which is a short commute from Oklahoma City, OK.
*Small class sizes
 *Lots of Technology
 *Excellent Pay and Great Benefits
 *Short commute from Lawton
 *Opportunity to change lives
Requirements:
Applicant must have at least a bachelor's degree to be considered. A certified teacher would be preferred, but we would be willing to work on emergency certifying an applicant. 
Preference will be given to:
Experience working in a correctional environment or with high-risk youth as a teacher and familiar with research-based instructional methods and curriculum development.
Special requirements:
Must be able to pass background check and drug screening.