R&E Automated Systems - Maintenance Technician
Post-Hire Training
Recruitment #10-018-01
| | |
| --- | --- |
| Company | R&E Automated Systems |
| Date Opened | 9/11/2019 2:00:00 PM |
| Filing Deadline | 10/31/2019 11:59:00 PM |
| Location | Spartanburg |
Introduction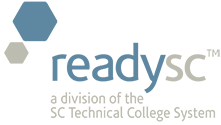 readySC™
In Cooperation With
Spartanburg Community College
is assisting with the recruitment and training for
R&E Automated Systems
In recruiting and on-the-job training for its manufacturing facility in Spartanburg.    R&E Automated Systems is a Leading Engineering and Automation Service provider.  We are seeking qualified candidates for the start-up of our new facility in Duncan.
Potential employment opportunities exist for full-time direct hire:
Maintenance Technician
We are seeking a jack-of-all-trades maintenance technician to join our growing team. In this position, you will be responsible for facility and grounds upkeep and may work alone or with a crew. You must be a well-rounded individual who can perform on a variety of equipment units, perform building maintenance, and assist with basic grounds-keeping.
Maintenance Technician Duties and Responsibilities
·       Troubleshoot mechanical, electrical, hydraulic and pneumatic systems of Robot Automation equipment.
·       Must be able to read mechanical, electrical, hydraulic and pneumatic schematics
·       Working knowledge of PLC's.
·       Perform mechanical, electrical, hydraulic repairs and fabrication.
·       Plan and follow thru all maintenance and facilities activities.
·       Maintain machine, secondary equipment, facilities preventative maintenance schedules.
·       Track and maintain inventory levels in maintenance.
·       Implement activities for cost savings and better machine and secondary equipment utilization.
·       ISO 9001 familiarity
·       Assist Maintenance Supervisor and Sr. Supervisor as necessary.
·       Quality check equipment regularly to ensure everything is in working order.
Maintenance Technician Requirements and Qualifications
·       2 years of maintenance experience including mechanical, electrical and hydraulic
·       Experience with Robotic welding equipment preferred
·       Ability to perform in production environment, operate heavy equipment, operate forklift, work around and operate cranes, and work directly with high voltage electronics
·       Ability to lift up to 50 pounds on a regular basis
·       Ability to read mechanical, electrical, hydraulic and pneumatic schematics
·       Must have a flexible schedule
Shifts – 1st and 2nd shifts available, must be flexible
Starting wage range $21.00 - $31.00/hour depending on experience
R&E Automated Systems offers benefits including Medical/Dental and Vision options, 401K matching program, Paid Holidays and Paid Vacation
An Equal Opportunity Employer