R&E Automated Systems - Production Worker
Post-Hire Training
Recruitment #10-018-02
| | |
| --- | --- |
| Company | R&E Automated Systems |
| Date Opened | 9/11/2019 2:00:00 PM |
| Filing Deadline | 10/2/2019 11:59:00 PM |
| Location | Spartanburg |
Introduction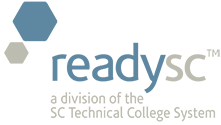 readySC™
In Cooperation With
Spartanburg Community College
is assisting with the recruitment and training for
R&E Automated Systems
In recruiting and on-the-job training for its manufacturing facility in Spartanburg.    R&E Automated Systems is a Leading Engineering and Automation Service provider.  We are seeking qualified candidates for the start-up of our new facility in Duncan.
Potential employment opportunities exist for full-time direct hire:
Production Worker
Production Worker Job Summary
We are currently seeking a reliable, hard-working production worker for our expanding operation. In this role, you will be a valuable part of our production team, ensuring our production quotas are met in a timely fashion while observing the highest standards of safety and quality. You will need to be reliable and punctual, able to perform physical tasks that are repetitive, and lift up to 50 lbs on a regular basis.
Production Worker Duties and Responsibilities
·        Work on the production line with consistent speed and accuracy
·        Ensure that production requirements and standards are met consistently
·        Make every effort to increase productivity and efficiency without compromising quality
·        Complete packaging tasks such as box assembly, packing, and taping
·        Operate machinery correctly and maintain it with care
·        Report any machinery issues to management
·        Observe all safety guidelines and report safety concerns to management
·        Able to work overtime as needed, including nights and weekends
Production Worker Requirements and Qualifications
·        High school diploma or equivalent required
·        2+ years' experience working in industrial production is strongly preferred
·        Must be available for nights and weekends/occasional overtime
·        Capable of reading and understanding production documents and safety manuals
·        Basic math, reading, and writing skills
·        Basic computer skills
·        Good communication skills
·        Willingness to comply with all safety guidelines at all times
·        Physically capable of manual labor that includes lifting, bending, and reaching
·        Able to operate large industrial machinery
·        Able to lift 50 lbs on a regular basis
Shifts – 1st and 2nd shifts available, must be flexible
Starting wage range $15.00 - $18.00/hour, depending on experience
R&E Automated Systems offers benefits including Medical/Dental and Vision options, 401K matching program, Paid Holidays and Paid Vacation
An Equal Opportunity Employer