R&E Automated Systems - Shipping and Receiving Associate
Post-Hire Training
Recruitment #10-018-03
| | |
| --- | --- |
| Company | R&E Automated Systems |
| Date Opened | 9/11/2019 2:00:00 PM |
| Filing Deadline | 10/2/2019 11:59:00 PM |
| Location | Spartanburg |
Introduction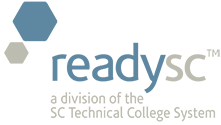 readySC™
In Cooperation With
Spartanburg Community College
is assisting with the recruitment and training for
R&E Automated Systems
In recruiting and on-the-job training for its manufacturing facility in Spartanburg.    R&E Automated Systems is a Leading Engineering and Automation Service provider.  We are seeking qualified candidates for the start-up of our new facility in Duncan.
Potential employment opportunities exist for full-time direct hire:
Shipping and Receiving Associate 
We are seeking a Shipping Receiving Associate to become an integral part of our team! You will help coordinate incoming and outgoing shipment activities.
Responsibilities:
·           Manage receipt of material from vendors/customers & document in accounting system
·           Adjust shippers to match physical inventory as received
·           Call vendors/customers to document discrepancies with shipments
·           Monitor shop phone
·           Make shippers via various means (Manual /Excel / X3) per Project requirements
·           Make process tags for shipments per SOWs or work orders
·           Scan shippers & file (digital & hard copy)
·           Verify shippers with Project Managers; report issues
Shipping and Receiving Requirements and Qualifications
·        Previous experience in Shipping, Logistics, or other related fields.
·        High school diploma or equivalent required
·        2+ years' experience working in industrial shipping and receiving is strongly preferred
·        Capable of reading and understanding production documents and safety manuals
·        Basic math, reading, and writing skills
·        Basic computer skills
·        Good communication skills
·        Willingness to comply with all safety guidelines at all times
·        Physically capable of manual labor that includes lifting, bending, and reaching
·        Able to operate fork lift
·        Able to lift 50 lbs on a regular basis
·        Able to work 8 hour shifts standing
Shifts – 1st and 2nd shifts available, must be flexible
Starting wage range $15.00 - $18.00/hour, depending on experience
R&E Automated Systems offers benefits including Medical/Dental and Vision options, 401K matching program, Paid Holidays and Paid Vacation
An Equal Opportunity Employer