Wednesday, January 20, 2021
Alo - Maintenance Technician
Post-Hire Training
Recruitment #10-054-01
| | |
| --- | --- |
| Company | Alo |
| Date Opened | 9/18/2019 12:00:00 PM |
| Filing Deadline | 10/11/2019 11:59:00 PM |
| Location | Greenville |
Introduction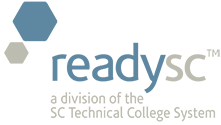 in cooperation with
Greenville Technical College 
is assisting with the recruitment and training for
Maintenance Technician

Description
With a full range of implements and attachments we strive at Ålö to serve our customers and be their vendor of choice with products that are focused on giving the farmer, our end user, the best opportunity to increase their productivity and profitability. With a commanding presence in the US market our customer base includes agricultural equipment companies such as AGCO, CNH, Kubota, McCormick, Buhler-Versatile and the Alamo group.  We are excited to build our new North American headquarters in Greenville County, South Carolina and look forward to providing an even closer partnership with our North American customers, vendors, and strategic partners. 
The Maintenance Technician primary objective is to perform routine and regular maintenance repair on all production equipment, facility grounds, and the building.  Duties include:
• Install heavy industrial equipment from machine, mechanical and electrical prints.
• Order correct parts from OEM parts list.
• Perform preventative maintenance to ensure proper operation of the machines.
• Troubleshoot, diagnose and perform detailed failure analysis and specific mechanical hydraulic and pneumatic repair on  
conventional and automatic industrial metal fabrication and finishing tools and machines with little or no supervision or technical assistance.
• Test and verify proper operation of equipment upon completion of the maintenance task.
• Provide assistance and/or instruction to other maintenance personnel as required.
• Must meet and maintain company requirements in lean manufacturing and housekeeping practices.
• Perform all duties without posing a direct threat to the health or safety of him/herself or others
• Must follow the company's directive in Quality Management System (QMS).
• Must follow the ISO 9001 work practices & procedures. 
• Perform any other duties which may be assigned by the supervisor.
Requirements
• Two years trade/vocational school preferred; high school diploma or equivalency (GED) required
• Must be able to read drawings, measuring instruments, wiring diagrams, etc.
• Minimum 1-2 years experience as a maintenance mechanic and experience with electrical/electronic controls troubleshooting and repair
KNOWLEDGE, SKILLS, AND ABILITIES REQUIRED:
• Requires the planning and performing of unusual and difficult work.  
• Must make decisions involving considerable ingenuity, initiative, and judgment on highly diversified work.
• Requires the use of judgment to plan and perform diversified work where standard or recognized operation methods are available, and the making of general decisions within prescribed limitations.
• Must make decisions with regard to quality of task performance.
• Must be self-motivated and be able to work with minimal direction from Team Leader.
• Requires moderate physical effort.
• Requires walking, twisting, climbing and/or bending up to six hours per day.
• Requires sitting less than one hour per day.
• Requires occasional work in unusual positions.
• Ability to lift up to 50 lbs. from waist.
• Ability to use a hoist or crane.
• Continuous visual attention to detail to ensure proper assembly.
You will be taken to another site to submit your application