Alo - Assembler
Post-Hire Training
Recruitment #10-054-03
| | |
| --- | --- |
| Company | Alo |
| Date Opened | 1/14/2021 3:00:00 PM |
| Filing Deadline | 2/28/2021 11:59:00 PM |
| Location | Greenville |
Introduction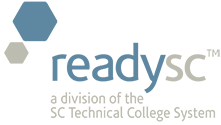 in cooperation with
Greenville Technical College 
is assisting with the recruitment and training for
Welder/Hand Build Technician
Description
With a full range of Implements and attachments we strive at Ålö to serve our customers and be their vendor of choice with products that are focused on giving the farmer, our end user, the best opportunity to increase their productivity and profitability. With a commanding presence in the US market our customer base includes agricultural equipment companies such as AGCO, CNH, Kubota, McCormick, Buhler-Versatile and the Alamo group.  We are excited to continue to build our new North American headquarters in Simpsonville, South Carolina and look forward to providing an even closer partnership with our North American customers, vendors, and strategic partners. 
The Welder/Hand Build Technician's primary objective is to set up, adjust, and operate welding equipment that welds together fabricated metal parts or sub-assemblies as specified by blueprints, layouts, welding procedures and operating charts. It also requires to work from oral and written instruction with little or no supervision and to perform critical welds on loaders, subframes, subassemblies, or parts where cosmetics of the work performed are an important factor. Duties may include:
• Set up, adjust, and operate welding equipment to spot or seam weld metal parts or subassemblies in accordance with dimensional specifications. 
• Use fabricated parts and manufacturing weld prints, along with a Demmeler table and Demmeler tooling to perform open set-up operations.
• Position fabricated parts or subassemblies together using jigs and fixtures for holding and positioning work to be welded.  
• Must be able to perform open set-ups with little or no tooling.
• Prepare surfaces to be welded by grinding, buffing, sanding, brushing and hand scraping so an effective weld can be performed as required. 
• Visually examine welds for adherence to blueprint specifications.
• Maintain welding equipment and make adjustments on equipment and jigs and fixtures to prepare to weld different parts or subassemblies when changing over from one product to another.
• Load and unload fixtures. 
• Use simple basic measuring devices or gauges to check their own work.
• Perform any other duties which may be assigned by the Team Lead.
Requirements
• Must be self-motivated and be able to work with minimal direction from Team Leader
• Must make decisions with regard to quality of product. 
• Must be able to carry out procedures and follow prescribed routines
• Requires continuous activity of standing, stooping, bending and/or walking.  
• Ability to lift up to 50 lbs. of steel from the waist repeatedly throughout the day
• Ability to carry up to 50 lbs. of steel repeatedly throughout the day
• Ability to push and/or pull carts weighing up to 100 lbs. repeatedly throughout the day
• Ability to use simple grasping of holding welding gun or loading parts into jig
• Ability to use a hoist or crane
• Ability to drive an industrial fork truck
• Continuous visual attention to detail to ensure proper assembly
https://recruiting.paylocity.com/recruiting/jobs/Details/174831/Alo-USA-Inc/WelderHand-Build-Technician
You will be taken to another site to submit your application