Alo - Welder/Hand Build Technician
Post-Hire Training
Recruitment #10-054-04
| | |
| --- | --- |
| Company | Alo |
| Date Opened | 1/14/2021 3:00:00 PM |
| Filing Deadline | 2/25/2021 12:00:00 PM |
| Location | Greenville |
Introduction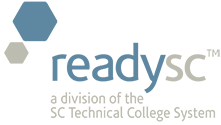 in cooperation with
Greenville Technical College 
is assisting with the recruitment and training for
Assembler - Day Shift

Description
With a full range of Implements and attachments we strive at Ålö to serve our customers and be their vendor of choice with products that are focused on giving the farmer, our end user, the best opportunity to increase their productivity and profitability. With a commanding presence in the US market our customer base includes  agricultural equipment companies such as AGCO, CNH, Kubota, McCormick, Buhler-Versatile and the Alamo group.  We are excited to continue to build our new North American headquarters in Simpsonville, South Carolina and look forward to providing an even closer partnership with our North American customers, vendors, and strategic partners. 
The Assembler's primary objective is: to perform a variety of non-repetitive or unique assembly operations to assemble, disassemble, repair, rebuild, modify and adjust assemblies using blueprints, sketches and engineering specifications; to determine the best methods and sequence of assembly operations where complete information is not readily available in order to best meet production and quality goals; and to perform a variety of order picking;  Additional duties may include:
• Place parts on assembly fixtures or conveyor with hoist if parts are over 50 lbs.
• Pin components together.
• Push wheeled cart through the assembly stations.
• Use impact wrench and gun to tighten bolts approximately 160 times per day.
• Use grease zert gun (air hammer) on cylinders approximately 160 times per day.
• Thread hydraulic hoses through backhoe.
• Place decals on backhoe.
• Pick up completely assembled unit with hoist and push in place on pallet.
• Use strapping gun to attach completed unit to pallet.
• Pick parts from racks to pack out.
• Pack components in a box referring to the pick list.
• Use impact wrench and gun to tighten bolts on valves that need assembled.
• Place decals on some of the kit parts.
• Be able to read drawings to pre assemble parts and torque to spec.
• Perform other duties as assigned by Team Lead.
Requirements
• High school diploma or equivalency (GED)
• Six months experience in a heavy industrial environment production flow
• Must be self-motivated and be able to work with minimal direction from Team Leader
• Must make decisions with regard to quality of product. 
• Requires continuous activity of standing, stooping, bending and/or walking.  
• Ability to lift up to 50 lbs.
• Ability to use a hoist or crane.
• Ability to drive an industrial fork truck.
• Continuous visual attention to detail to ensure proper assembly.
https://recruiting.paylocity.com/recruiting/jobs/Details/173866/Alo-USA-Inc/Assembler---Dayshift
You will be taken to another site to submit your application