Wednesday, December 6, 2023
Lockheed Martin - Various
Post-Hire Training
Recruitment #10-074-01
| | |
| --- | --- |
| Company | Lockheed Martin |
| Date Opened | 10/19/2021 10:00:00 AM |
| Filing Deadline | Ongoing |
| Location | Greenville, SC |
Introduction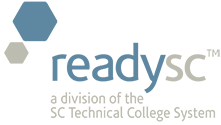 In Cooperation With
Greenville Technical College
is assisting with the recruitment and training for

Lockheed Martin is a global security and aerospace company that employs approximately 105,000 people worldwide and is principally engaged in the research, design, development, manufacture, integration and sustainment of advanced technology systems, products and services.
The company's operations in Greenville, S.C., provide nose-to-tail aircraft modification, maintenance, repair and overhaul services for both military and civil aircraft, and is the new home of the F-16 fighter jet production line. The technical workforce consists of certified skillsets such as Avionics, Airframe and Powerplant Generalists (APGs), Sheet Metal Mechanics, Quality Assurance Inspectors, Welding, Composites, Tool Makers, Painters, etc. Support functions within the workforce include Engineering, Planning, Warehouse and Material Processing, Supply Chain, Finance and more. Over the past three decades, the site has provided world-class and affordable sustainment services to thousands of aircraft such as the C-130 Hercules, P-3 Orion and C-5 Galaxy.
As part of our culture of innovation, Lockheed Martin offers excellent benefits and amenities, an inclusive work environment, ongoing career development and support, rewards and recognition to honor your hard work, and more. We are driven by a sense of purpose and passion to shape the future and solve the world's most difficult challenges. We bring that same passion and purpose to our communities, where our employees play an active role in strengthening the quality of life where we live and work.
You'll have the opportunity to work on legendary aircraft while enjoying direct, full time employment benefits such as health insurance, 401 K plans, 4/10 and 3/12 schedules, tuition reimbursement, and endless career development opportunities!
Job opportunities:
•
Sheet Metal and Structures Mechanics
•
Quality Engineers and 
Inspectors
•
Supervisor and Management Roles
For information on potential employment opportunities, please visit:
https://www.lockheedmartinjobs.com/aero-greenville-south-carolina
(You will be taken to another site to apply.)
Equal Opportunity Employer