Friday, September 18, 2020
BorgWarner - Machinist
Post-Hire Training
Recruitment #10-201-03
| | |
| --- | --- |
| Company | BorgWarner |
| Date Opened | 9/10/2020 3:00:00 PM |
| Filing Deadline | 9/26/2020 11:59:00 PM |
| Location | Oconee |
Introduction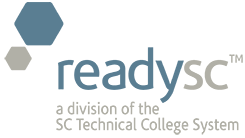 In cooperation with
Tri-County Technical College
  is assisting with the recruitment and on-the-job training for

BorgWarner
BorgWarner is a global product leader in clean, energy-efficient propulsion system solutions for combustion, hybrid and electric vehicles. Locally, we specialize in producing transfer cases for the nation's best-selling vehicles. BorgWarner offers the opportunity for free medical premiums day one, 401k matching and contribution, tuition reimbursement and annual bonus opportunities.
Potential employment opportunities exist for:
Machinist II
Sets up and operates conventional, special purpose, and computer numerical control (CNC) machines: lathes, grinders, milling machines and drill presses to machine complex metallic parts to exacting blueprint tolerances. To perform this job successfully, an individual must have the ability to be able to perform each essential duty satisfactorily. The requirements listed below are representative of the knowledge, skill, and/or ability required. Reasonable accommodations may be made to enable individuals with disabilities to perform the essential functions.
Standard Duties:
Adhere to safety, quality and quantity production goals Set up and operate various CNC machines (two to six axis machinery)

Set up and adjust fixtures, cutting tools, and make tooling offsets on machines Utilize blueprints specifications or sample part to determine dimensions and tolerances of finished work piece and setup requirements

Verify conformance of finished work piece to specifications

Measure, mark, and scribe dimensions and references points on material or work piece as guides for subsequent machining Start and observe machine operation to detect malfunctions or out-of-tolerance machining, and adjusts machine controls or control media as required

Use hand-held precision instruments to verify quality: CMM(s), micrometers, calipers and several gauge types

Makes any adjustments necessary to maintain quality parts within control limits for SPC Interpret gear charts and reports and confer with technical team members and leadership or others to resolve machining problems

Read and understand internal procedures and policies
Physical Requirements:
Stand for long periods of time including during operation of stand up lifts. Lifting shoulder high up to 35 lbs. repetitively.

Ability to work in a fast paced environment.

Repetitive motion activities including but not limited to loading machines, unloading machines, standing, lifting, loading/unloading carts.
Computer Skills:
To perform this job successfully, an individual should have basic computer knowledge.
Education:
High School diploma or GED required Experience: 6 months of related experience preferred.

Experience in fast paced industrial lean environment

Strong mechanical aptitude desired

Basic and advanced math skills: familiarity with ratios, proportions, geometry, and trigonometry is a plus

Ability to read and interpret blueprints

Ability to use measuring instruments including but not limited to calipers, height gage, scales, and micrometers
Pay progressions are based on length of service.
Job Fair
Thursday, September 24th 9am-12pm and 3pm-6pm
Shaver Recreation Complex
698 W. S. 4th St
Seneca, SC 29678
  Bring Resume to Job Fair
Apply online now or at www.borgwarner.com/careers 
An Equal Opportunity Employer
Click on a link below to apply for this position: