Thursday, October 29, 2020
Niagara Bottling, LLC - Machine Operator
Post-Hire Training
Recruitment #10-227-01
| | |
| --- | --- |
| Company | Niagara Bottling, LLC |
| Date Opened | 9/22/2020 3:00:00 PM |
| Filing Deadline | 10/28/2020 11:59:00 PM |
| Location | Florence |
Introduction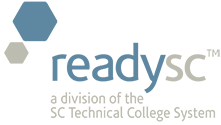 in cooperation with
Florence-Darlington Technical College 
is assisting with the recruitment and training for

Hiring Machine Operators (Nights /Days)
This position is responsible for daily operations of the production floor; ensuring the shift meets established safety, quality, and production goals in compliance with all applicable legal and food safety requirements.
What we offer
·                 Competitive hourly rate
·                 AM/PM shifts. 2-2-3 schedule (Every other weekend off).
·                 Great insurance option (medical, dental, vision) with competitive premiums.
·                 401K with company match.
·                 Paid vacation and PTO.
·                 Safety-conscious work environment.
What does a machine operator do?
·                 Responsible for the production line(s).
·                 Promotes a standard of safety and quality.
·                 Completes quality and production reports hourly.
·                 Maintains appropriate level of raw materials required by production lines.
·                 General housekeeping in all areas of production.
Minimum Qualifications:
·                 High School Diploma or GED.
·                 1-2 year of machine operator (manufacturing) experience.
·                 General knowledge of product lines (Plus).
·                 Ability to work in a fast-paced active environment.
·                 Able to multi-task and manage multiple priorities.
Physical requirements and work environment:
·                 Physical requirements: To stand for full shift; walk; use hands to handle objects, tools, or controls.
·                 Work environment: Non A/C work area, the noise level is usually moderate.
 For more information and to Apply Click Here or paste the link below in your browser.
https://niagarawater.wd5.myworkdayjobs.com/Niagara/job/Florence---Florence-SC/Hiring-Production-Operators--all-shifts----New-facility-in-Florence--SC_R18177
You will be taken to another site to continue your application.
Niagara Bottling LLC is an Equal Opportunity Employer that does not discriminate on the basis of race, color, religion, sex, age, sexual orientation, gender identity and/or expression, national origin, veteran status or disability in relation to our recruiting, hiring, and promoting practices.