BASF - Production Operator
Post-Hire Training
Recruitment #10-236-01
| | |
| --- | --- |
| Company | BASF |
| Date Opened | 10/1/2020 10:00:00 AM |
| Filing Deadline | 11/30/2020 11:59:00 PM |
| Location | Spartanburg |
Introduction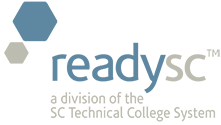 readySC™
In Cooperation With
Spartanburg Community College
is assisting with the recruitment and training for
 BASF
At BASF, we create chemistry through the power of connected minds. By balancing economic success with environmental protection and social responsibility, we are building a more sustainable future through chemistry. As the world's leading chemical company, we help our customers in nearly every industry meet the current and future needs of society through science and innovation.
 
We provide a challenging and rewarding work environment and are always working to form the best team—especially from within, through an emphasis on lifelong learning and development.
 
And we are constantly striving to become an even better place to work. BASF has been recognized by Forbes Magazine as one of America's Best Employers in 2019. Come join us on our journey to create solutions for a sustainable future!

 

Production Operator – 2001641 – Spartanburg, SC (Converse Location)

 
Formula for Success: You Will…
 


 

A Production Operator in the Manufacturing Unit works from specific verbal and/or written instructions to operate the appropriate process equipment to produce a consistent product.
 
Major Responsibilities:

• Loads and unloads process equipment.
• Operates process equipment to maintain product within customer specifications.
• Maintain acceptable housekeeping standards in the work area.
• Follows all safety regulations.
• Operates forklift.
• Maintain lot integrity by keeping accurate batch/run sheets.
• Problem solving and troubleshooting of equipment
• Knowledge of safety regulations associated with a chemical operation.
• Knowledge of proper material handling procedures.
• Ability to lift 50lbs
• Able to work in hot or cold environments
• Ability to stand extended amounts of time

• Ability to work 1st, 2nd and or 3rd shift
EHS:
• Adhere to established safety, health and environmental policies and procedures.
• Participate in incident investigations.
• Accomplish day-to-day and recurring EHS activities
• Safety suggestions
• Proactive hazard recognition and EHS issues
• Attend and participate in Safety meetings
• Waste management activities

  

 

Qualifications - BASF recognizes institutions of Higher Education which are accredited by the Council for Higher Education Accreditation or equivalent

 

Ingredients for Success: What We Look for in You…
 


Basic Qualifications:

• High school diploma or GED

 

Preferred Qualifications:

• Manufacturing experience
• Experience operating a forklift


 

BASF recognizes Institutions of Higher Education that are accredited by the Council for Higher Education Accreditation or equivalent.
 
BASF Corporation is firmly committed to Equal Employment Opportunity ("EEO") and to compliance with all federal, state and local laws that prohibit employment discrimination on the basis of age, race, color, sex, sexual orientation, gender identity or expression, national origin, religion, disability, veteran status, genetic information, and other protected classifications.

 

To apply click here, or paste this link in your browser:

 

https://basf.jobs/light_green_NA/job/Spartanburg-Production-Operator-SC-29307/611473301/?feedId=111101

 

You will be taken to another page to apply.