Oldcastle APG - Dryer Operator
Post-Hire Training
Recruitment #10-244-01
| | |
| --- | --- |
| Company | Oldcastle APC |
| Date Opened | 10/26/2020 5:00:00 PM |
| Filing Deadline | 12/23/2020 11:59:00 PM |
| Location | Cowpens, SC |
Introduction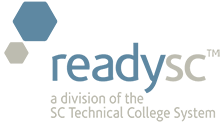 readySC™
In Cooperation With
Spartanburg Community College
is assisting with the recruitment and training for
Adams Products, an industry leading concrete masonry technology and design company, is establishing a world-class dry mix and bagging plant in Cherokee County. The company is installing state-of-the-art manufacturing equipment that will allow for high volume production of two well-known product lines – Sakrete bagged concrete mixes and Amerimix mortars. We are seeking qualified candidates for the start-up of our new facility in Cowpens.
Potential Employment Opportunity Exists for:
Dryer Operator
Operates plant machinery as directed and specified while adhering to all rules and regulations mandated by safety policies and procedures to produce a superior product.
Job Duties:
Read job specifications to determine machine adjustments and material requirements.

Observe dryer operation and perform adjustments to maintain set parameters.

Fill material bins as needed to meet daily production schedules.

Receive bulk truckloads of aggregates from outside carriers.

Operate a front-end loader to fill raw material bins.

Perform routine machine maintenance.

Startup machinery for daily production.

Make sure all housekeeping is maintained in a clear and orderly fashion in assigned areas.

Other duties and responsibilities related to the nature of the job may be assigned on a temporary or permanent basis as needed.

Up to two weeks of out of state travel may be required for training

To perform this job successfully, an individual must be able to perform each essential duty satisfactorily. Reasonable accommodations may be made to enable qualified individuals with disabilities to perform the essential duties of the job. Company conducts pre-employment background screening and drug testing.
Education and Experience Required:
High school diploma or GED equivalent, or one- to six-months of related experience in trades specific to job requirements, or equivalent combination of education and experience.
Ability to read and interpret documents such as safety rules, operating and maintenance instruction, and procedure manuals.
Ability to document machine readings.
Ability to trouble shoot minor machine errors and perform corrective actions.
Ability to be a self-starter and work independently
Ability to add, subtract multiply and divide in all units of measure, using whole numbers, common fractions and decimals.
Have the ability to apply common sense understanding to carry out instructions furnished in written, oral or diagram form.
Maintain a high level of accuracy in all aspects of work assignments.
Demonstrated ability to operate a front-end loader.
Physical Environment:
While performing the duties of this job the employee will be required to frequently stand on their feet for extended periods of time.
Willing to work in outdoor environment.
Must be willing to climb ladders and stairs up to 150 feet.
Must have the ability to lift and/or move up to 100 lbs.
Able to work a flexible schedule, including weekends as needed.
Openings available for all shifts.
For more information and to apply click here
Or paste this link in your browser: 
https://jobs.crh.com/CRH_Americas/job/Cowpens-Dryer-Operator-Cowpens%2C-SC-SC-29330/627947001/   
You will be taken to another site to apply.