Oldcastle APG - Electrician/Electrical Technician
Post-Hire Training
Recruitment #10-244-02
| | |
| --- | --- |
| Company | Oldcastle APC |
| Date Opened | 10/26/2020 5:00:00 PM |
| Filing Deadline | 12/7/2020 11:59:00 PM |
| Location | Cowpens, SC |
Introduction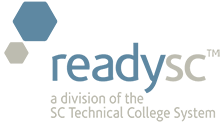 readySC™
In Cooperation With
Spartanburg Community College
is assisting with the recruitment and training for
Adams Products, an industry leading concrete masonry technology and design company, is establishing a world-class dry mix and bagging plant in Cherokee County. The company is installing state-of-the-art manufacturing equipment that will allow for high volume production of two well-known product lines – Sakrete bagged concrete mixes and Amerimix mortars. We are seeking qualified candidates for the start-up of our new facility in Cowpens.
Potential Employment Opportunity Exists for:
ELECTRICIAN/ELECTRICAL TECHNICIAN
Electrician is responsible for ensuring proper electrical functioning of plant equipment and machinery and to troubleshoot any electrical malfunctioning and complete appropriate repairs and maintenance.  
Job Duties:
A strong emphasis on safety and good safety practices including arc flash requirements.

Maintain and repair all existing electrical equipment in the production areas.


Install power supply wiring and conduit for newly installed machines and equipment.

Perform mechanical tasks as directed by supervisor.

Prepare maintenance reports for management as directed.

Maintain strict documentation of all plant electrical circuitry.

Provide general lead electrician support.

Read blueprints, wiring diagrams, process sheets, and assembly schematic drawings.

Diagnose and test malfunctioning machinery and discuss malfunction with other facility personnel.

Ability to interpret electrical schematics for repair, installation and maintenance of industrial production equipment including programming AC drives.

Replace or repair faulty electrical components of machine.

Calibrate and adjust all electrical/electronic equipment according to manufacturer's specifications.


Do minor programming and maintenance for programmable logic controller-based equipment.

Maintain proper stock of tools and electrical parts to perform routine work.

Basic knowledge of mechanical systems, hydraulics and pneumatics.
PLC programming and troubleshooting experience.
Up to two weeks of out of state travel may be required for training. 

To perform this job successfully, an individual must be able to perform each essential duty satisfactorily. Reasonable accommodations may be made to enable qualified individuals with disabilities to perform the essential duties of the job. Company conducts pre-employment background screening and drug testing.
Education and Experience Required:
Associate degree or completion of Technical School and Apprenticeship program or equivalent in training, experience and education.
Minimum of 5 years industrial experience in electrical support functions.
Must have been employed as an electrician or electrician apprentice within the past 18 months.
Must be knowledgeable of OSHA safety requirements, especially those related to electrical operations and components.
Able to read and understand electrical schematics and blueprints.
Working knowledge of three phase motors, programmable controls, circuits, and National Electrical Code.
 Physical Environment:
Ability to lift, push or pull 60 pounds or more.
Requires often climbing, lifting, bending, pushing, pulling, stooping, and twisting.
Able to use tools and equipment to repair and provide maintenance while standing, crouching, stretching, extending extremities and under extreme work environments.
Openings available for all shifts.
For more information and to apply click here
Or paste this link in your browser: 
https://jobs.crh.com/CRH_Americas/job/Cowpens-Electrician-Electrical-Technician-Cowpens%2C-SC-SC-29330/627933401/
You will be taken to another site to apply.