Oldcastle APG - Shift (Lead) Supervisor
Post-Hire Training
Recruitment #10-244-04
| | |
| --- | --- |
| Company | Oldcastle APC |
| Date Opened | 10/26/2020 5:00:00 PM |
| Filing Deadline | 12/23/2020 11:59:00 PM |
| Location | Cowpens, SC |
Introduction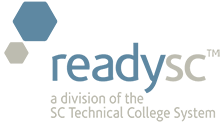 readySC™
In Cooperation With
Spartanburg Community College
is assisting with the recruitment and training for
Adams Products, an industry leading concrete masonry technology and design company, is establishing a world-class dry mix and bagging plant in Cherokee County. The company is installing state-of-the-art manufacturing equipment that will allow for high volume production of two well-known product lines – Sakrete bagged concrete mixes and Amerimix mortars. We are seeking qualified candidates for the start-up of our new facility in Cowpens.
Potential Employment Opportunity Exists for:
Shift (Lead) Supervisor
The Shift (Lead) Supervisor will work under the direction of the Plant or Operations Manager in leading assigned shift to meet production goals and expectations while operating shift in a safe and efficient manner.
Job Duties:
Lead with a strong commitment to safety, establishing good safety practices and training.
Candidate must be qualified to perform jobs under his or her direction.
Set production goals and expectations; monitor hours worked by employees.
Maintain shift production line housekeeping and conduct monthly housekeeping audits.
Oversee the daily preventive maintenance program on shift.
Maintain adequate inventory and repair parts for shift production.
Analyze shift production reports.
Other duties and responsibilities related to the nature of the job may be assigned on a temporary or permanent basis as needed. Up to two weeks of out of state travel may be required for training.
To perform this job successfully, an individual must be able to perform each essential duty satisfactorily. Reasonable accommodations may be made to enable qualified individuals with disabilities to perform the essential duties of the job. Company conducts pre-employment background screening and drug testing.
Physical Environment:
Ability to lift up to 60 pounds.
Endure intermittent climbing, bending, stooping, twisting, reaching, pushing, and pulling.
Walking up and down elevated catwalks and stairs and standing for long periods of time.
Openings available for all shifts.
For more information and to apply click here
Or paste this link in your browser: 
https://jobs.crh.com/CRH_Americas/job/Cowpens-Shift-Supervisor-Cowpens%2C-SC-SC-29330/627948101/
You will be taken to another site to apply.