Saturday, August 13, 2022
Thorne - Quality Control Inspector
Post-Hire Training
Recruitment #10-285-13
| | |
| --- | --- |
| Company | Thorne |
| Date Opened | 2/18/2021 11:00:00 AM |
| Filing Deadline | 12/17/2021 2:00:00 PM |
| Location | Summerville, SC |
Introduction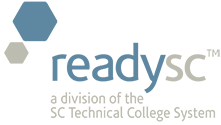 readySC™
In Cooperation With
Trident Technical College
is assisting with the recruitment and training for

Thorne Research's mission is to redefine what it means to be well and to continue to push the limits of human potential. Their belief is that good health can always be made better. Because no one should be limited by a definition of health that is anything less than optimal. Finding out what your body needs is only half the solution. Giving it to you is the other half. They offer personal at-home tests to help understand your health and supplements to unlock your full potential. 
Potential employment opportunities exist for: 
Quality Control Inspector
POSITION SUMMARY:
The Quality Control (QC) Inspector follows established procedures to perform activities associated with the sampling, inspection, testing, and examination of incoming materials, mixtures, in-process materials, finished products, and releases.
RESPONSIBILITIES: 
Responsible for ensuring line clearances are conducted and that the correct cleaning method is utilized. Inspects and verifies that product and materials have been removed from previous product runs. 
Responsible for sampling, packaging inspection and release. Samples and inspects incoming materials, mixtures, and in-process materials. Employee compares materials against established specifications to determine if the material conforms to the specifications. 
Verifies various manufacturing measuring equipment as well as reviewing and maintaining neat and accurate logbooks in accordance with established procedures, including removal of non-functioning equipment. 
Updates electronic and document systems to reflect disposition status of materials. 
Respirator Maintenance – Ensures proper fit, use and cleanliness. Stores in accordance with written procedures. Requires wearing respiration protection as needed to perform work. 
Performs AQL Sampling inspections throughout manufacturing operations. • Performs complete layout inspection by measuring dimensions, such as length and height using precision instruments such as calipers, ruler, or tape measure. 
Verifies and at times calculates yield reconciliation results, participates in investigations when yield calculations are outside of the acceptable range. 
Responsible for aspects of the deviation process including but not limited to reviewing and monitoring Deviation Authorizations and performing verifications as needed. 
Reads and evaluates documents for accuracy and consistency of terminology and ensures the documents clearly represent the actions performed. Also ensures the content is written appropriately for those performing the action and submits Change Requests as necessary to adjust. 
Collaborates on Incident Reports, aids in investigation, determines the magnitude and type of problems as well as resolutions. In cooperation with the Supervisor on duty, consults with technical personnel while assisting with the investigation. Gives instruction for further action. Assists in the investigation, quarantines, and transfers items if the product requires additional investigation or is a non-conforming product. 
Rejecting Material –Transfers rejected items accordingly. Ensures product is moved to an appropriate quarantine location. 
Identifies, analyzes, and evaluates risks for process improvements. 
ERP System Packaging, Label and Component Release –knows and understands the ERP system for basic transactions.
EXPERIENCE / COMPETENCIES / PROFICIENCIES: EXPERIENCE / COMPETENCIES / PROFICIENCIES:
Education and/or Experience: By training, education and/or experience, employee must be able to perform the essential duties of the job. High school diploma or general education degree (GED) is required. 
Language Ability: Employee can read and understand written directions in English.
Math Ability: Employee can add, subtract, multiply, and divide in the units of measurement used in the Quality Department, using whole numbers and decimals (for example, grams to kilos). 
Reasoning Ability: 
Employee can solve practical problems and deal with a variety of concrete variables in situations where only limited standardization exists. Employee can interpret a variety of instructions furnished in written, oral, diagram or schedule form. 
Computer and Technical Skills - Employee can use handheld calculators to perform basic math calculations to complete records accurately. Employee has basic computer skills and Microsoft Office experience. 
Develop and deliver on assigned objectives within requested timeframes. 
Possess good interpersonal skills. 
Engage others in a positive manner. 
Possess strong attention to detail. 
Possess strong verbal and communication skills. 
Raises issues and concerns promptly. 
Documents and presents work in a clear and concise manner. 
Possesses knowledge of the computers and software required to accomplish the Responsibilities of the job. 
PHYSICAL DEMANDS:
Must be able to work while using a half-mask respirator or a full-air respirator for up to six hours at a time and be able to follow Thorne Research's Respiratory Protection Program guidelines. 
Must be able to see and read small print and be able to distinguish colors. 
Must be able to work in a moderate noise level environment. 
Must be able to move or lift items weighing up to 50 pounds from floor to table and from table to floor, occasionally, during a 12-, 10- or 8-hour shift unassisted. Must have assistance when lifting items weighing over 50 pounds. 
Must be able to ascend/descend a ladder while carrying up to 20 pounds of materials. 
An Equal Opportunity Employer