Sunday, September 19, 2021
Distribution Center - Warehouse Associate
Pre-Hire Training
Recruitment #10-291-01
| | |
| --- | --- |
| Company | Distribution Center |
| Date Opened | 8/30/2021 3:00:00 PM |
| Filing Deadline | 12/31/2021 11:59:00 PM |
| Location | Ridgeville, South Carolina. |
Introduction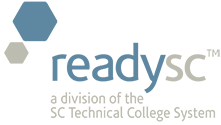 In Cooperation With
Trident Technical College
is assisting with the recruitment and training for 
Distribution Center - Warehouse Associate
Job Overview 
This position is responsible for assisting in the operation of a department. An individual in this position will be expected to perform additional job related responsibilities and duties throughout the facility as assigned and/or as necessary 
Qualifications and requirements include 
Must be 18 years of age or older 
Possess the ability to successfully perform the listed essential functions/be proficient in competencies and perform required physical activities with or without reasonable accommodations. 
The ability to work overnight, weekends and varying shifts 
Essential Functions: An individual must successfully perform the essential functions of this position with or without reasonable accommodations.      
Apply labels to correct location on freights/pallets/merchandise 
Manage freight flow/deliveries through processing, identifying, counting, separating and scanning freight; moving and unloading freight manually or with power equipment, maintain freight inventory, operate computer software and basic applications to track and identify freight, transport pallets of freight to be slotted, stored, shipped or wrapped using manual (e.g. pallet jack) or powered equipment. 
Organize work area through stacking or moving pallets using a pallet jack or power equipment 
Maintain a safe working area through checking the integrity of trailers/pallets, removing and stacking empty pallets. 
Competencies 
Freight Handling – Handles and safely processes freight. Load, unload, order fills, pack, and/or processes freight accurately and timely. Tells management about unsafe working conditions, damaged products, or improper procedures in the facility and uses equipment safely and correctly. Maintains a clean work environment to ensure safety and compliance. 
Customer/Member Centered- Shows care and concern when serving our customers/members, asks questions to understand their needs, uses policies to exceed expectations and uses the correct resources ( people, products, tools) in order to successfully resolve member/customer concerns. 
Judgement Uses policies, procedures, data or facts to make sound day to day decisions. Recognize and reports problems to those in authority to correct them. 
Planning and Improvement- Accepts responsibility and meets work expectations by identifying the steps required to carry out task. 
Influence and communicate- Communicates in a respectful and professional manner. 
Execution and Results- Makes a consistent effort to get results by meeting deadlines and taking actions to resolve issues in a timely manner. 
Ethic and Compliance- Follows company policies by showing integrity and ethical behavior in all work situations. Reports unethical/non-compliant behavior promptly. 
Adaptability- Adapts to changing work demands, remains focused when faced with change or difficulties and stays open to learning from assignments/feedback. 
Physical Activities 
Move up and down ladder and stairs 
Reach overhead, below the knees, bending, twisting, pulling, stooping, and  standing for extended periods of time while grasping, turning, and manipulating objects that vary in size and weight 
Fine motor and hand- eye coordination to visually verify/read  information often in small print, locate merchandise, and inspect equipment 
Observe the behaviors of others (i.e., associates, suppliers, customers) 
Working Conditions 
The work environment characteristics described here represent those encountered by employees performing the essential job functions: 
Exposure to varying temperatures 
Sloping, slippery or uneven surfaces 
Heights, indoor work for extended periods of time, narrow, enclosed or elevated spaces
Training will be at no charge to trainees. 
Successful completion of the training program carries no obligation to accept any offer of employment, nor is an offer guaranteed. 
An Equal Opportunity Employer
Click on a link below to apply for this position: