Saturday, September 23, 2023
Mecart - Cleanroom Building Installer
Post-Hire Training
Recruitment #10-389-03
| | |
| --- | --- |
| Company | Mecart |
| Date Opened | 5/23/2022 5:30:00 PM |
| Filing Deadline | 10/28/2022 11:59:00 PM |
| Location | Greenville, SC |
Introduction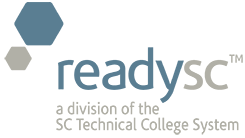 In cooperation with
Greenville Technical College
is assisting with the recruitment and training for
Mecart
Potential employment opportunities exist for:
Cleanroom Building Installer
The world of construction isn't for you?  Do you need more challenges? This is perfect as our installation team needs new recruits (with electrical experience or training) who will travel across the United States to install our cleanroom and modular buildings.
This position is mainly on the road, but we have a factory in Greenville, South Carolina, so you work in the factory between trips.
You're a versatile person.  You love the rough work as much as the finish detail part of a job. You will work on all phases of installation: assembly of the walls, electrical, structure, all the way to completion and commissioning. That's 40% rough work, and 60% finishing.

This is the dream job for you if you have drive and are independent, but love teamwork.

You like to carry out large-scale projects from A to Z (including vaccine production rooms) and your ultimate reward is satisfaction in the eyes of the customer when you leave the site.

You must be available for long travels.  Frequent traveling of 4-6 weeks duration throughout several states is part of the job!

You have to be thorough to finish our ultra specialized rooms and make sure it works perfectly before you leave.

You have to be resourceful, because we always have the "unexpected."

You have to be fit, because it is a physically demanding job.

We are looking for someone who will want to grow within our team, both personally and professionally. You will learn something new or develop a new skill, every day!

Opportunities for advancement, such as possibly managing a site or one of our mega-projects.
If the above is you, you are clearly in the right place.
Task description
Install cleanrooms, acoustic buildings, and other types of modular buildings at customers' premises

Perform all product assembly steps:

Assembly of panels (walls, ceilings, etc.)

Installation of the structure

Installation of windows and doors

Installation of ventilation and air conditioning

Installation and connection of electrical components (electrical outlets, electrical panel, HVAC system, control, lighting)

Installation of finishing components, flooring, plumbing, sealant, etc.

Supervise an installation team at customers' premises

Planning and supervising of sub-

contractors

Manage the installation schedule to ensure that key deliverables are achieved

As necessary, assemble / install products in the Greenville, SC factory (when there is no installation on the schedule)
Required skills
Technical training in electricity or relevant fields (electromechanics, HVAC, carpentry, etc.)

Knowing how to read and interpret assembly drawings (factory & installation)

Available to travel to different states for short or long periods (generally between 1 week and 6 weeks)

Meticulous (for assembly, finishing, etc.)

Autonomous & resourceful (must be able to manage a project and solve problems with remote support)

Leadership and team management skills

Enjoy customer contact and offer quality service

Good physical condition

Driver's license and valid passport (or the ability to get a passport)
To make you feel at home, we offer :
A competitive salary (between $22 and $32 an hour) with regular paid overtime

Medical, dental, vision insurance for you and your family

A retirement plan contribution

Paid time off

Training

A chance to be part of the most dynamic company in our industry.
This is the perfect job for you if:
You are passionate about doing a good quality manual task

You like custom made and racking your brain to find solutions

You are meticulous, versatile, and autonomous

You pay attention to detail and value a job well done

Basically, we're looking for someone who is manual, resourceful, and who likes to touch everything!
Discover MECART
At MECART, we have been designing, manufacturing and installing specialized buildings for over 45 years. They are buildings where noise level, vibration, air quality, temperature and / or humidity are controlled, such as clean rooms (for pharmaceutical or high tech), soundproof cabins, and electrical rooms. Our reason for being? Giving our customers complete satisfaction and peace of mind by putting all the risks associated with the engineering, manufacturing and installation of controlled environments on OUR SIDE.
Check out our website to see what we do: 
If you made it so far, maybe this is the perfect job for you! 
You will be taken to another site to submit your application.
Equal Opportunity Employer