Wednesday, September 28, 2022
Envirosep - Assembly Commercial Electrician
Post-Hire Training
Recruitment #10-618-03
| | |
| --- | --- |
| Company | Envirosep |
| Date Opened | 3/7/2022 2:00:00 PM |
| Filing Deadline | 9/30/2022 11:59:00 PM |
| Location | Georgetown, SC |
Introduction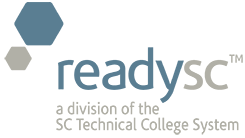 Horry-Georgetown Technical College
is assisting with the recruitment and training for
Envirosep
Envirosep, as a full-service engineering and manufacturing firm, specializes in innovative, modular fluid handling, heat transfer and energy recovery systems. Our capabilities range from small pre-engineered pumping equipment packages to large, custom, complex engineered systems and modular utility plants. As reflected in our company values, Envirosep integrated solutions use the latest technologies that enhance environment responsibility and energy efficiency while reducing operating costs which result in truly unique, integrated solutions that go beyond normal functionality.
Potential employment opportunities exist for:
Assembly Commercial Electrician
Salary Range $18-$25 
Responsibilities:
The following duties are typical for this job. Employees may not perform all the listed duties and/or may be required to perform additional or different duties from those set forth below to address business needs and changing business practices.
Read and interpret drawings, follow diagrams of circuits and wiring, blueprints, schematics and electrical code specifications to, layout and fabricate industrial electrical equipment enclosures
Individual must observe, receive, and otherwise obtain information from all relevant sources before starting a project
Demonstrate the ability to see details at close range while performing all job functions
Install, examine, replace, or repair electrical wiring, receptacles, switch boxes, conduits, feeders, lighting fixtures, and other electrical components
Layout, bend, assemble and install rigid and EMT conduit
Determine wire type, quantity, size, measure, cut and pull into appropriately sized conduit
Test equipment and components for continuity, current, voltage and resistance
Install and wire switchgear, switchboards, panelboards, transformers, and control panels
Maintain, repair, test and install electrical motors, variable speed drives, generators, industrial hydraulic and pneumatic electrical control systems
Troubleshoot, and repair industrial, electrical, and electronic control systems and other related devices
Install and calibrate industrial instrumentation and related devices
Ensure that electrical systems are safe and running efficiently
Use many different power and hand tools to cut, measure, bend and fasten
Lift 25 plus pounds multiple times a day
Demonstrate ability to work independently or as part of a team
Demonstrate ability to perform basic math functions of addition, subtraction, multiplication, and division
Individual must observe, receive, and otherwise obtain information from all relevant sources before starting a project
Demonstrate the ability to see details at close range while performing all job functions
Must be able to concentrate on a task over a period of time without being distracted, use controlled mechanisms or direct physical activity to operate machines or processes not including computers or vehicles as directed
Individual will need the ability to make precise coordinated movements of the fingers of one or both hands to grasp, manipulate, or assemble very small objects.
Perform physical activities that require considerable use of your arms and legs and moving the whole body, such as climbing, lifting, balancing, walking, stooping, and handling of materials in a safe and effective manner
Experience/Education Required/Sought

:
1-2 years experience required
Skills Required/Sought:
Leadership and integrity; excellent attendance and role model for team members.  Must interpret and follow work instructions.  Critical thinking and problem-solving skills. Excellent communication and organizational skills.
IMPORTANT DI

S

C

LAIMER NOTICE 
The job duties, ele
m
ents, responsi
b
ilities, skills,
f
unctions, experience, educational factors, and the req
u
ire
m
ents and co
n
ditions list
e
d in this job
description
are
represe
n
tative only and are not exhaustive of the tasks that an e
m
ployee
m
ay be
required to perfor
m
.  The
Co
m
pany reserves the right to revise this job
description at any ti
m
e and to require
e
m
ployees to perform
o
t
her tasks as circu
m
stances or conditions of its business, co
m
petitive considerations, or the work environ
m
ent change.
If you wish to apply, but do not have access to a computer, please visit a SC Works Center to complete your application. 
Please bring a copy of your resume and any other information you may need to complete your application. To locate your nearest center, go to: https://www.scworks.org
***An Equal Opportunity Employer M/F/H/V***
Click on a link below to apply for this position: