Tuesday, September 27, 2022
Citadel Brands - Warehouse Order Picker
Post-Hire Training
Recruitment #10-648-01
| | |
| --- | --- |
| Company | Citadel Brands |
| Date Opened | 4/6/2022 3:30:00 PM |
| Filing Deadline | Ongoing |
| Location | Williamsburg, SC |
Introduction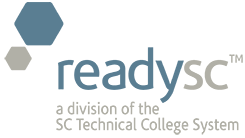 In cooperation with
Williamsburg Technical College
is assisting with the recruitment and training for
Citadel Brands, LLC is the exclusive North American partner of the
AWDis
(All We Do Is) family of brands that is headquartered in the UK.   
AWDis
is one of the fastest growing brands in Europe and has introduced the "
Just Hoods"
and
"Just Cool"
product lines in the USA through Citadel Brands for the past 5 years.
Potential employment opportunities exist for:
Responsibilities:
    Manage pick ticket orders pulling items from warehouse case stock based on style/color/size and quantit
    Perform daily maintenance check on order picker lift(s)

 

    Operate handheld RF scanner to properly pick an order
    Ensure that orders are picked and staged accurately
    Palletize warehouse orders and wrap for delivery as required 
    Stage items correctly for delivery 
    Operate inventory handling equipment and ensure safety procedures are followed 
    Ensure warehouse goals are met 
    Maintain high level of health and safety standards 
    Loading delivery vehicles for LTL and truck load orders Perform other general warehouse duties as needed
Skills Required/Sought:      
    Good communication skills 
    Ability to work well on a team and self-motivated 
    Ability to operate a motorized order picker lift 
    Regular, punctual attendance is required 
    High level of accuracy and attention to detail 
    Good hand-eye coordination 
    Ability to understand and operate a handheld RF scanner to perform warehouse functions 
    Ability to adapt to changing procedures, policies, and work environment 
    Must be able to work safely in a fast-paced team environment
Experience/Education Preferred/Sought:      
    High School Diploma or equivalent, associate or bachelor's degree preferred 
    Previous experience working in a warehouse is preferred 
    Certification on forklift and / or motorized order picker a plus 
    Experience working with a scan-based warehouse management system a plus
      IMPORTANT DISCLAIMER NOTICE 
The job duties, ele
m
ents, responsi
b
ilities, skills, 
f
unctions, experience, educational factors, and the req
u
ire
m
ents and co
n
ditions list
e
d in this job
description
are
represe
n
tative only and are not exhaustive of the tasks that an e
m
ployee 
m
ay be
required to perfor
m
. The
Co
m
pany reserves the right to revise this job
description at any ti
m
e and to require
e
m
ployees to perform
o
t
her tasks as circu
m
stances or conditions of its business, co
m
petitive considerations, or the work environ
m
ent change.
If you wish to apply, but do not have access to a computer, please visit a SC Works Center to complete your application. Please bring a copy of your resume and any other information you may need to complete your application. To locate your nearest center, go to: 
https://www.scworks.org
***An Equal Opportunity Employer M/F/H/V***
Click on a link below to apply for this position: