Wednesday, September 28, 2022
Citadel Brands - Warehouse Shift Supervisor
Post-Hire Training
Recruitment #10-648-03
| | |
| --- | --- |
| Company | Citadel Brands |
| Date Opened | 4/6/2022 3:30:00 PM |
| Filing Deadline | Ongoing |
| Location | Williamsburg, SC |
Introduction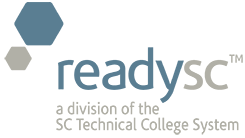 In cooperation with
Williamsburg Technical College
is assisting with the recruitment and training for
Citadel Brands, LLC is the exclusive North American partner of the
AWDis
(All We Do Is) family of brands that is headquartered in the UK.   
AWDis
is one of the fastest growing brands in Europe and has introduced the "
Just Hoods"
and
"Just Cool"
product lines in the USA through Citadel Brands for the past 5 years.
Potential employment opportunities exist for:
Warehouse Shift Supervisor
Responsibilities:
Supervising, counseling, evaluating, developing, and providing training for assigned team 
Supervising assigned shift team and daily activities 
Ensure meaningful shift handoff to the next shift 
Managing, evaluating, and reporting on warehouse productivity of the team 
Checking orders, bills, items received, inventory, and deliveries for accuracy 
Ensuring basic maintenance standards and compliance with health and safety regulations 
Performing a daily inspection of the warehouse 
Communicating and coordinating with other internal departments 
Driving continuous improvement of the assigned shift team 
Perform inventory cycle counts as directed by the warehouse manager and the WMS 
Motivating assigned shift team to achieve efficiency and accuracy goals while following SOP's 
Completing projects as assigned by Warehouse Manager 
Create and maintain an environment that promotes positive teamwork 
Ensure rotation of warehouse inventory when filling orders
Skills Required/Sought:
Strong communications and interpersonal skills 
Strong strategic and critical thinking skills 
Must be computer literate with knowledge of relevant computer systems, software programs, and Microsoft Office programs 
Experience with shipping and dock operations desired 
Solid ethics, morals, and sound judgment
Experience/Education Preferred/Sought:
Bachelors' Degree or 3 years of packaging and distribution leadership experience
Experience with functions and operations of a WMS strongly preferred

 

Supervisory background, ability to train and communicate
IMPORTANT DISCLAIMER NOTICE 
The job duties, ele
m
ents, responsi
b
ilities, skills, 
f
unctions, experience, educational factors, and the req
u
ire
m
ents and co
n
ditions list
e
d in this job
description
are
represe
n
tative only and are not exhaustive of the tasks that an e
m
ployee 
m
ay be
required to perfor
m
. The
Co
m
pany reserves the right to revise this job
description at any ti
m
e and to require
e
m
ployees to perform
o
t
her tasks as circu
m
stances or conditions of its business, co
m
petitive considerations, or the work environ
m
ent change.
If you wish to apply, but do not have access to a computer, please visit a SC Works Center to complete your application. Please bring a copy of your resume and any other information you may need to complete your application. To locate your nearest center, go to: 
https://www.scworks.org
***An Equal Opportunity Employer M/F/H/V***
Click on a link below to apply for this position: