Thursday, December 8, 2022
Prestage Foods of South Carolina - Wastewater Operator
Post-Hire Training
Recruitment #10-676-01
| | |
| --- | --- |
| Company | Prestage Foods of South Carolina |
| Date Opened | 9/26/2022 1:00:00 PM |
| Filing Deadline | 12/2/2022 11:59:00 PM |
| Location | Camden, SC |
Introduction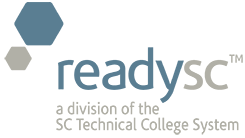 is assisting with the recruitment and training for
Potential employment opportunities exist for:
Prestage Foods of SC is a family-owned turkey processing plant located in Camden, SC. Our mission is to produce quality food at a competitive price. We are looking for individuals who go the extra mile and will be a great addition to our team.
Education:
GED (Min.); Min. C-level or higher certification (required)
Working knowledge in wastewater operation or related field
The wastewater operator operates, monitors, and troubleshoots the wastewater treatment facility and its processes. The position reports to the maintenance supervisor w/ a primary work schedule of M-F, day shift, with flexibility to work early/ late shift, overtime, and weekends, as needed.  
Specific Duties / Responsibilities: 
Performs all aspects of sampling, monitoring and testing to maintain compliance with Federal, State, and Local regulations for wastewater process. 

Performs and documents various tests required for operation of the wastewater systems

Completes daily checks of wastewater process and pump stations

Conducts necessary weekend checks of wastewater plant on a rotating basis

Assists with regular and unscheduled maintenance & repairs on water equipment and machinery. 

Operates with a safety-first mindset above all other department measuring parameters.  

Shares knowledge with others and works towards own certification advancement

Works with minimal supervision and brings wastewater process opportunities forward

Other duties as assigned by Manager/Supervisor. 
Skills/Abilities/Attributes:
Min. basic working-knowledge of wastewater processes and systems 

Solid understanding/ knowledge base of local, state, and federal wastewater regulations

Detailed-oriented; able to work in fast-paced environment

Team player and leader w/ excellent communication skills
Lift / move up to 35 lbs.; occasionally 50 lbs.

Stand, walk, bend, kneel, climb, stoop up to 10 hrs./shift

Work safely in hot, cold, wet environment e.g., 35-40 / 100 degrees
We offer competitive salary and great benefits.
*An Equal Opportunity Employer*