Wednesday, November 29, 2023
Ingram Micro Inc. - FORKLIFT OPERATOR
Post-Hire Training
Recruitment #10-679-07
| | |
| --- | --- |
| Company | Ingram Micro Inc. |
| Date Opened | 10/24/2023 3:00:00 PM |
| Filing Deadline | 11/21/2023 11:59:00 PM |
| Location | Spartanburg, SC |
Introduction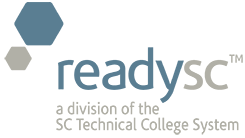 In cooperation with
Spartanburg Community College
is assisting with the recruitment and training for
Ingram Micro Inc.
Ingram Micro Inc. is locating a new facility in Spartanburg County.  Ingram Micro Inc. is a leading provider of global technology and supply chain services.  We are seeking qualified candidates for the start-up of our new state of the art regional fulfillment center in Moore.
Potential employment opportunities exist for:
FORKLIFT OPERATOR
Transfer goods and materials from incoming and outbound shipments via a forklift. Operates gas or electric powered forklift truck to move, stack, load or unload materials, parts, finished goods etc. Move materials throughout the warehouse. Proceeds to the loading and unloading of transport vehicles to and from the warehouse, with raw materials, unfinished products and/or finished products. Perform safety checks on lifts. Maintain accurate inventory and report any discrepancies. May require certification to operate forklift.
What you bring to the role:
Recognized skilled specialist in job area. May be responsible for leading daily operations. May train, delegate and review the work of lower level employees. Problems typically are not routine and require analysis, judgment and initiative. Makes minor adjustments and enhancements to working methods to improve effectiveness of area.
Provides administrative or technical support at a specialist level. Incumbents are highly proficient in a broad range of activities related to their job. May act as a lead or mentor to more junior technical or administrative support personnel. Consistently works on complex assignments requiring independent action and a high degree of initiative to resolve issues. Makes recommendations for new procedures.
Incumbents independently perform a wide range of complex duties under general guidance from supervisors. Known in the department/group as the "knowledge base" of information. Acts independently to determine methods and procedures on new assignments. Often acts as a facilitator and team leader.
Two year college degree or equivalent experience and minimum five years' functional experience. OR HS diploma or equivalent and a minimum 8 years of functional including 4 years position specific experience.
*This is not a complete listing of the job duties. It's a representation of the things you will be doing, and you may not perform all of these duties.
Shift hours:  7:00am or 12:00pm
Ingram Micro so proud to earn Great Place to Work Certification™ for 2022-2023 in the United States. At Ingram Micro, we strive to build a fun and engaging culture where everyone feels welcome, valued, and successful. This recognition is a true testament to our industry-leading talent – our people – who continue to go above and beyond every day not only for our customers and partners, but for each other.
You will be taken to another site to submit your application.
 You will be taken to another site to submit your application.
Computer access available at Spartanburg SC Works office – 220 East Kennedy St., Spartanburg, SC 29302 
or your nearest SC Works office 
Office Hours: 8:30 a.m. – 5:00 p.m. 
An Equal Opportunity Employer