Tuesday, December 5, 2023
Takeuchi Mfg (US) Ltd - Assembly Associate
Post-Hire Training
Recruitment #10-693-01
| | |
| --- | --- |
| Company | Takeuchi Mfg (US) Ltd |
| Date Opened | 6/20/2022 2:00:00 PM |
| Filing Deadline | 10/30/2023 11:59:00 PM |
| Location | Moore, SC |
Introduction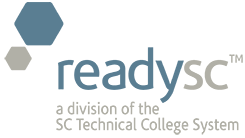 in cooperation with
Spartanburg Community College
is assisting with the recruitment and training for
Potential employment opportunities exist for:
Assembly Associate (1st Shift)
Takeuchi Mfg (US) Ltd, a global manufacturer of construction equipment, has launched its first North American assembly facility in Moore, SC.  Takeuchi (pronounced Tok eh oo chee) is building a first-class workforce in a modern facility with an ideal work schedule.
Assemble components to create new compact track loader equipment according to specifications
Perform diagnostic tests on assembled items and conduct adjustments when needed to make sure the final product functions efficiently
Check inventory for workstation to ensure needed materials are on hand
Use tools and machinery to assemble part of the product
Inspect products for accuracy and uniformity
Maintain accurate records of production activity
Learn processes for various workstations
Follow technical instructions, interpret engineering drawings and technical terms
Discern quality of parts and materials used in production
Inventory parts and tools used in the assembling process
Follow company procedures and directives
Test finished products for defects
Maintain the tools used to create products
Keep a clean and well-maintained workspace
Demonstrated reliable work history
Prefer proven work experience as an Assembly Associate, Mechanic or similar role
Good eye-hand coordination to construct parts and pieces into a final product
Manual dexterity
The ability to use various hand tools to produce a final product
Ability to follow instructions and diagrams as delivered for each product
Ability to work independently and in a team environment
High school diploma and related training preferred
Moderate to heavy physical effort required including sitting, standing, walking, kneeling, squatting, climbing steps or ladders, grasping, fine and course manipulation, reaching both forward and above head level
Must be able to push, pull and/or lift up to 50 pounds; and safely operate assigned machinery
Must be able to stand and work for long periods
Must be able to work in varying temperatures
Shift Hours: 4-day work week, Mon-Thu 6:00am-4:30pm
Starting wage: $20.00 per hour
Takeuchi Mfg (US) Ltd offers a competitive benefits package including affordable medical, dental and vision coverage, 401(k) – 100% match on 1st 4%, PTO, paid holidays, and wellness benefits!
*An Equal Opportunity Employer*
Computer access to apply is available at Spartanburg SC Works office – 110 Commerce St, Spartanburg SC 29302
or your nearest SC Works office
Office Hours:  8:30 a.m. – 5:00 p.m.