Saturday, November 26, 2022
Takeuchi Mfg (US) Ltd - Maintenance Technician (1st Shift)
Post-Hire Training
Recruitment #10-693-05
| | |
| --- | --- |
| Company | Takeuchi Mfg (US) Ltd |
| Date Opened | 11/21/2022 09:00:00 AM |
| Filing Deadline | 1/27/2023 10:15:00 AM |
| Location | Moore, SC |
Introduction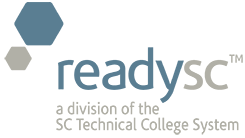 in cooperation with
Spartanburg Community College
is assisting with the recruitment and training for
Potential employment opportunities exist for:
Maintenance Technician (1st Shift)
Takeuchi Mfg. (US) Ltd, a global manufacturer of construction equipment, has launched its first North American manufacturing facility in Moore, SC.  We are building a superior workforce dedicated to making a quality product you can be proud of while learning and developing in a promising career.  We are seeking qualified candidates for the start-up of our new facility in Moore.
The maintenance technician is responsible for a wide range of electro-mechanical tasks related to the manufacturing process and facilities.  Under general supervision, performs expert level mechanical, electrical, and systems troubleshooting, repair, and preventive maintenance on equipment in accordance with manufacturer's manuals, diagrams, sketches, etc.
Equipment Maintenance — Performing routine maintenance on equipment and determining when and what kind of maintenance is needed.
Test performance of electromechanical assemblies, using test instruments such as electronic voltmeters. Ammeters, Insulation testers and related tools.
Read blueprints, schematics, diagrams, or technical orders to determine methods and sequences of assembly.
Install equipment, machines, wiring, or programs to meet specifications.
Install electrical or electronic parts and hardware in housings or assemblies, using soldering equipment and hand tools.
Verify part dimensions or clearances to ensure conformance to specifications, using precision measuring instruments.
Align, fit, or assemble component parts, using hand or power tools, fixtures, templates, or layout tools.
Prepare written documentation of electromechanical test results.
Repair, rework, or calibrate hydraulic, pneumatic, and electrical assemblies or systems to meet operational specifications or tolerances.
Operate metalworking machines like band saws, drill presses, welding and torch cutting equipment to fabricate housings, jigs, fittings, or fixtures.
Analyze engineering designs of logic or digital circuitry, motor controls, instrumentation, or data acquisition for implementation into new or existing process equipment.

 

maintain inventory, records, and documentation systems including existing Work Order system, Purchase Request forms and quotation processes.
Fabricate or assemble mechanical, electrical, or electronic components or assemblies.
Ability to read gauges, dials, or other indicators to make sure a machine is working properly.
Modify, maintain, or repair electrical, electronic, or mechanical components, equipment, or systems to ensure proper functioning.
Produce electrical, electronic, or mechanical drawings or other related documents or graphics necessary for electromechanical design, using computer-aided design (CAD) software.
Knowledge of machines and tools, including their designs, uses, repair, and maintenance.
Basic Knowledge of circuit boards, processors, chips, electronic equipment, and computer hardware and software, including applications and programming.
Knowledge of the practical application of engineering science and technology. This includes applying principles, techniques, procedures, and equipment to the design and production of various goods and services.
Knowledge of materials, production processes, quality control, costs, and other techniques for maximizing the effective manufacture and distribution of goods.
Using logic and reasoning to identify the strengths and weaknesses of alternative solutions, conclusions, or approaches to problems.
Identifying complex problems and reviewing related information to develop and evaluate options and implement solutions.
Reading Comprehension
Active Listening
Time Management 
Associate Degree in Mechatronics or electro mechanical discipline or 5 years' experience in industrial maintenance
Moderate to heavy physical effort required including sitting, standing, walking, kneeling, squatting, climbing steps or ladders, grasping, fine and course manipulation, reaching both forward and above head level
Must be able to push, pull and/or lift up to 50 pounds; and safely operate assigned machinery
Must be able to stand and work for long periods
Must be able to work in varying temperatures
Shift Hours: Mon-Fri 8-hour shifts
Starting wage: $28.50 per hour
Takeuchi Mfg (US) Ltd offers a competitive benefits package including affordable medical, dental and vision coverage, 401(k) – 100% match on 1st 4%, PTO, paid holidays, and wellness benefits!
*An Equal Opportunity Employer*
Computer access to apply is available at Spartanburg SC Works office – 220 East Kennedy St, Spartanburg SC 29302
or your nearest SC Works office
Office Hours:  8:30 a.m. – 5:00 p.m.
Click on a link below to apply for this position: