Thursday, September 28, 2023
Takeuchi Mfg (US) Ltd - Warehouse Material Handler
Post-Hire Training
Recruitment #10-693-06
| | |
| --- | --- |
| Company | Takeuchi Mfg (US) Ltd |
| Date Opened | 8/12/2022 10:45:00 AM |
| Filing Deadline | 5/31/2023 08:27:00 AM |
| Location | Moore, SC |
Introduction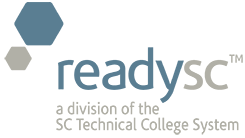 in cooperation with
Spartanburg Community College
is assisting with the recruitment and training for
Potential employment opportunities exist for:
Warehouse Material Handler
Takeuchi Mfg (US) Ltd, a global manufacturer of construction equipment, has launched its first North American assembly facility in Moore, SC.  Takeuchi (pronounced Tok eh oo chee) is building a first-class workforce in a modern facility with an ideal work schedule.
Supplies parts to Assembly/Production (picking, pulling, material handling, etc.) Material handling orders based on work order specifications. 
Safely operate mobile equipment for transporting parts 
Understand and follow all Standard Operating Procedures 
Maintain minimum performance standards while performing required job functions 
Perform the job with the highest standards of quality and accuracy 
Work safely and abide by all of Takeuchi Safety rules and procedures 
Must be able to read / count to use picklist for quality/accuracy for moving parts. 
Must be detail orientated /clean / organized.  
Must be able to work in a fast-paced environment.
Must be flexible and willing to cross-train in other warehouse areas.
Demonstrated reliable work history

State motor vehicle operators permit for operation of forklift highly preferred

Proven team member with skills to multi-task

Proficient reading skills
High school diploma or a GED preferred, not required
Six months distribution center experience preferred
Moderate to heavy physical effort required including sitting, standing, walking, kneeling, squatting, climbing steps or ladders, grasping, fine and course manipulation, reaching both forward and above head level
Must be able to push, pull and/or lift up to 50 pounds; and safely operate assigned machinery
Must be able to stand and work for long periods
Must be able to work in varying temperatures
Shift Hours: 4-day work week, Mon-Thu 6:00am-4:30pm
Starting wage: $18.50 per hour
Takeuchi Mfg (US) Ltd offers a competitive benefits package including affordable medical, dental and vision coverage, 401(k) – 100% match on 1st 4%, PTO, paid holidays, and wellness benefits!
*An Equal Opportunity Employer*
Computer access to apply is available at Spartanburg SC Works office – 110 Commerce St, Spartanburg SC 29302
or your nearest SC Works office
Office Hours:  8:30 a.m. – 5:00 p.m.