Takeuchi Mfg (US) Ltd - Quality Inspector
Post-Hire Training
Recruitment #10-693-07
| | |
| --- | --- |
| Company | Takeuchi Mfg (US) Ltd |
| Date Opened | 8/18/2022 10:30:00 AM |
| Filing Deadline | 11/28/2023 11:00:00 AM |
| Location | Moore, SC |
Introduction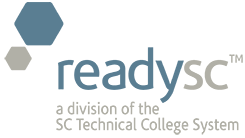 in cooperation with
Spartanburg Community College
is assisting with the recruitment and training for
Potential employment opportunities exist for:
Takeuchi Mfg (US) Ltd, a global manufacturer of construction equipment, has launched its first North American assembly facility in Moore, SC.  Takeuchi (pronounced Tok eh oo chee) is building a first-class workforce in a modern facility with an ideal work schedule.
Inspects output samples using industry-appropriate methods, such as comparing to standards, measuring dimensions, and examining functionality. 
Checks that the assembly or production line adheres to standards and procedures and complies with legal requirements 
Reviews standards and specifications to compare to produced goods 
Records inspection results by completing reports, summarizing re-works and wastes and inputting data into quality database 
Trains the production team on quality control measures to improve product excellence 
Proposes improvements to the production process 
Keeps measurement equipment operating accurately by following calibration requirements and calling for repairs 
Reads and interpreting drawings/work instructions 
Using gauges such as calipers and micrometers to measure products 
Collects and compiles statistical quality data 
Assist in the development of test methods and inspection plans 
Determines the causes of product defects and provides minor rework 
Verifies all equipment is calibrated correctly and safely
Education and Experience Required
High School Degree or GED 
Proven experience in Quality (Minimum 2 years) 
Further qualifications will be a plus (Testing, auditing, troubleshooting, assembly, painting, welding) 
A keen eye for detail and a results-driven approach 
Responsible and trustworthy 
Demonstrated reliable work history
Familiar with quality testing machines and systems 
Ability to read measurements on calipers, micrometers, and other required measuring equipment 
Ability to perform multiple tasks in a fast-paced environment to assure delivery requirements
Must be able to lift 25lbs at a time 
Physically able to conduct inspections and carry equipment used for inspections. (Climbing in and out of equipment, bending, lifting objects)
Shift Hours: 4-day work week, Mon-Thu 6:00am-4:30pm
Starting wage: $20.00 per hour
Takeuchi Mfg (US) Ltd offers a competitive benefits package including affordable medical, dental and vision coverage, 401(k) – 100% match on 1st 4%, PTO, paid holidays, and wellness benefits!
*An Equal Opportunity Employer*
Computer access to apply is available at Spartanburg SC Works office – 110 Commerce St, Spartanburg SC 29302
or your nearest SC Works office
Office Hours:  8:30 a.m. – 5:00 p.m.