Takeuchi Mfg (US) Ltd - Quality Technician
Post-Hire Training
Recruitment #10-693-09
| | |
| --- | --- |
| Company | Takeuchi Mfg (US) Ltd |
| Date Opened | 12/15/2022 11:00:00 AM |
| Filing Deadline | 7/30/2023 11:59:00 AM |
| Location | Moore, SC |
Introduction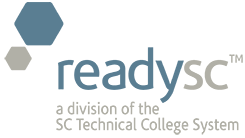 in cooperation with
Spartanburg Community College
is assisting with the recruitment and training for
Potential employment opportunities exist for:
Quality Technician (1st Shift)
Takeuchi Mfg (US) Ltd, a global manufacturer of construction equipment, has launched its first North American assembly facility in Moore, SC.  Takeuchi (pronounced Tok eh oo chee) is building a first-class workforce in a modern facility with an ideal work schedule.
JOB SUMMARY:   The Quality Technician –will provide production line support to ensure that products are being built to design and production specifications. This position will provide oversight and coordination of various quality support activities including the investigation, troubleshooting, documentation, analysis and resolution of quality issues.
Develops and implements methods and procedures for process control, process improvement, testing and inspection to ensure that the products are free of flaws and function as designed
Provides troubleshooting support when quality issues are reported from the production line/Inspection area and may make necessary repairs by painting, assembling, welding or grinding
Analyzes reports and defective products to determine trends and recommend corrective actions
Collaborates with supplier representatives on quality problems, ensures that effective corrective actions are implemented, and contributes to supplier quality improvement
Investigate issues to identify root causes and implement short term and long-term corrective actions.
Perform process verification audits to ensure work instructions and control plans exist for operators on assurance control.
Communicates with Supervisors and Managers for collected In-house, supplier and field service reports/information and relay the corrective action to the department.
Assist with training assembly and paint operators.
Associate's degree in an engineering technology or related field from an accredited college or university OR High School diploma (or GED) with 5+ years of experience
Demonstrated reliable work history
2+ years of assembly and/or paint production quality experience in a manufacturing environment
Mechanical, Paint, and Welding aptitude
Basic understanding of machine function and manufacturing process.
Proficient in the execution of methods and procedures
Able to respond effectively to changing priorities
Excellent problem-solving ability
Strong communication, organizational and interpersonal skills
Proficiency with computer tools (MS Office minimum)
Knowledge of lean manufacturing tools and practices along with understanding QA and QC
Ability to present technical documents and projects.
Ability to prioritize and manage multiple projects and responsibilities.
Enthusiastic, cooperative, and positive behavior.
Ability to read oil-hydraulic circuit diagram.
Ability to read Electric circuit diagram.
Physical demands of the job include: stooping, grinding, crouching, walking, pulling, lifting (up to 40 pounds), grasping, hearing, visual acuity, kneeling, reaching, pushing, talking, standing, fingering and climbing; Also working in a plant environment with varying temperatures
Shift Hours: 4-day work week, Mon-Thu 6:00am-4:30pm
Starting wage: $22.00 per hour
Takeuchi Mfg (US) Ltd offers a competitive benefits package including affordable medical, dental and vision coverage, 401(k) – 100% match on 1st 4%, PTO, paid holidays, and wellness benefits!
*An Equal Opportunity Employer*
Computer access to apply is available at Spartanburg SC Works office – 110 Commerce St, Spartanburg SC 29302
or your nearest SC Works office
Office Hours:  8:30 a.m. – 5:00 p.m.
Click on a link below to apply for this position: