VPET USA, LLC - Machine Technician
Post-Hire Training
Recruitment #10-898-01
| | |
| --- | --- |
| Company | VPET LLC, USA |
| Date Opened | 1/30/2023 10:30:00 AM |
| Filing Deadline | 5/15/2023 11:59:00 PM |
| Location | Greer, SC |
Introduction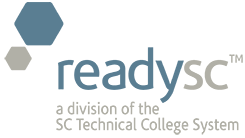 in cooperation with
Spartanburg Community College
is assisting with the recruitment and training for
Potential employment opportunities exist for:
VPET USA, LLC is a leading manufacturer of wide-mouth polyethylene terephthalate (PET) bottles and containers. The new Greer SC facility will serve as a blow molding and injection molding facility to supply key customers in the Southeast.
JOB SUMMARY:
VPET USA is currently seeking a Blow Molding Technician to support our PET bottle production line. You will be responsible for machine maintenance to include diagnosing, performing preventative and corrective maintenance. This position supports process improvement and new technology processes to achieve goals for profitability, safety and ergonomics. In addition, you will be responsible for assisting the Chief Engineer and Management team with other projects as assigned.
Job Duties: But not limited to.
Comply with all quality, safety, and work rules and regulations. 
Adhere to all instructions, manufacturing practices and housekeeping procedures 
Install new MACHINERY 
Replace and repair machine parts. 
Process, troubleshoot and repair all facility PET Blow Molding machines and support equipment. 
Monitor and adjust bottle processes to optimize bottle quality and correct defects, including the completion of hourly quality checks. 
Manage bottle silo level, merge/dump gate set-up, and blower speeds. 
Complete, preform, and bottle changeovers. 
Ability to multitask, set priorities, identifies problems, address problems and meet deadlines. 
Ability to follow verbal and written instructions. 
undefined
Ability to work effectively both independently, and within a team environment. 
Ability to operate material handling equipment. 
Basic math skills. 
Basic computer skills. 
Basic mechanical trouble shooting and repair. 
Basic electrical trouble shooting and repair. 
Basic machine shop skills. 
Machine installation experience. 
Proficient in English, both verbal and written 
Understand and comply with applicable OSHA safety rules/regulations and Lock-out/Tag-out requirements. 
High School diploma or equivalent. 
2 years minimum operation and adjustment experience with Blow molding Injection Molding machines. 
Knowledge in facility specific blow molder equipment operations & troubleshooting. 
Experience with Husky machines preferred. 
Technical School training in Injection/Blow Molding preferred. 
Requirements include, but are not limited to:
Walking, Sitting, Standing, Crouching, and or caring equipment for prolong periods of time. 
Be able to lift a minimum of 25 Lbs. 
Be familiar with mechanical hand tools such as drills, wrenches, screw drivers, etc. 
Shift Hours: Monday-Friday 8 to 10 plus hours
Starting wage: $20-$30 per hour
VPET USA, LLC offers a competitive benefits package including:
Medical (HMO), dental and vision insurance premium. 
401k plan, Employer contributes 3%, up to 4% 
Company offers vacation and sick pay 
Holiday Pay: Eight (8) paid holidays per year 
Basic Life Insurance Paid (25K policy) 
Computer access to apply is available at Spartanburg SC Works office – 110 Commerce St., Spartanburg SC 29302
Office Hours:  8:30 a.m. – 5:00 p.m.
or your nearest SC Works office
An Equal Opportunity Employer
Click on a link below to apply for this position: