Wednesday, November 29, 2023
VPET USA, LLC - Shipping & Receiving Clerk
Post-Hire Training
Recruitment #10-898-04
| | |
| --- | --- |
| Company | VPET LLC, USA |
| Date Opened | 1/30/2023 10:30:00 AM |
| Filing Deadline | 5/15/2023 11:59:00 PM |
| Location | Greer, SC |
Introduction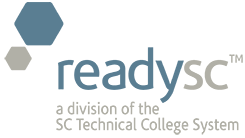 in cooperation with
Spartanburg Community College
is assisting with the recruitment and training for
Potential employment opportunities exist for:
Shipping & Receiving Clerk
VPET USA, LLC is a leading manufacturer of wide-mouth polyethylene terephthalate (PET) bottles and containers. The new Greer SC facility will serve as a blow molding and injection molding facility to supply key customers in the Southeast.
JOB SUMMARY:
In the role of Shipping/Receiving Representative, you will be responsible for a variety of shipping and receiving tasks. Providing excellent customer service to our customers, third-party vendor drivers, and supporting inter- departments by providing status or assistance with shipping and receiving related matters. This role also provides administrative support to the department manager.
Job Duties: But not limited to.
Responsible for verifying and coordinating the accuracy of incoming & outgoing shipments.
Contact carrier representatives to make arrangements or to issue instructions for shipping and delivery of materials.
Performs data entry, prepares shipping orders, and schedules loads.
Researches, compiles, validates, and reports information from multiple sources i.e., bills of lading, orders, or other records.
Confer or correspond with establishment representatives to rectify problems, such as damages or shortages.
Provides general clerical office functions and support to the department Manager.
Assist our third-party drivers with shipping or receiving inquiries.
Assist customers with shipping and receiving change requests.
Act as liaison between customers, carriers, and internal departments by notifying the appropriate departments of change requests or any other matter that requires notification.
Arrange or coordinate the delivery of materials received by notifying the appropriate department personnel.
Comply with all quality, safety, work rules, and regulations.
Assist with various projects as needed.
Perform all other duties as assigned.
Excellent written, verbal, and listening skills.
Adapt to new processes, products, and technologies as required. Learn and understand our products and technology at a level sufficiently high enough to efficiently identify and route requests for assistance to the proper division department or individual.
Ability to work within a fast-paced, deadline-driven, multi-discipline environment.
Ability to manage multiple tasks, set priorities, identifies and addresses problems, and meets deadlines.
Identify and resolve problems in a timely manner, gathers and analyze information skillfully, and maintain confidentiality.
Ability to work effectively with a team in a wide array of plant personnel ranging from hourly employees to senior management.
Self-motivated with the ability to work independently in a fast-paced environment with changing priorities.
High level of attention to detail, and process driven in order to balance timeliness and quality of service. Metrics for quality and efficiency will be developed and maintained.
Computer skills: Basic knowledge and experience in computer office programs of Word, Excel, and Outlook are requirements for this job.
Basic math skills.
Must be able to communicate, read and write proficiently in English.
Must be committed to the success of the entire organization.
A High School diploma or equivalent is required.
2+ years of administrative experience or similar role.
Requirements include, but are not limited to:
This position requires occasional walk-through's in our warehouse/shipping department for follow-up on customer service orders, inventory, order status, operate lift truck i.e. sit-down and propane changes, etc.
Works in an office environment that is located inside the Warehouse.
Requires sitting, standing, walking, and operating a computer keyboard, telephone, and other office equipment for extended periods of time.
Must be able to perform repetitive motions such as typing, reaching, and grasping.
Work environment is in a warehouse and temperatures inside vary between hot or cold based on the outside conditions.
Shift Hours: Monday-Friday 8 to 10 plus hours
Starting wage: $19-$21 per hour
VPET USA, LLC offers a competitive benefits package including:
Medical (HMO), dental and vision insurance premium. 
401k plan, Employer contributes 3%, up to 4% 
Company offers vacation and sick pay 
Holiday Pay: Eight (8) paid holidays per year 
Basic Life Insurance Paid (25K policy) 
Computer access to apply is available at Spartanburg SC Works office – 110 Commerce St., Spartanburg SC 29302
Office Hours:  8:30 a.m. – 5:00 p.m.
or your nearest SC Works office
An Equal Opportunity Employer