Monday, September 25, 2023
Verdeco - Maintenance Technician
Post-Hire Training
Recruitment #10-911-01
| | |
| --- | --- |
| Company | Verdeco |
| Date Opened | 3/1/2023 11:00:00 AM |
| Filing Deadline | 4/14/2023 11:59:00 PM |
| Location | Greenville, SC |
Introduction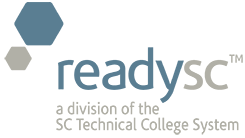 In cooperation with
Greenville Technical College
is assisting with the recruitment and training for

Potential employment opportunities exist for:
Maintenance Technicians
Duties and Responsibilities:
Perform maintenance tasks including, but not limited to, mechanical, electrical, PLC troubleshooting and repair of production machines.
Provide emergency/unscheduled repairs of production equipment during production.
Perform scheduled maintenance repairs of production equipment during machine service and maintain appropriate tracking reports.
Contribute to the creation of robust preventative maintenance tasks to keep the equipment operational at peak levels.
Provide scheduled/emergency/unscheduled repairs and maintenance of the facility.
Emergency call-ins are expected as part of a rotation of maintenance team members to support a 24/7 production operation.   These are balanced to not burden any one person.
Read and interpret equipment manuals and work orders to perform required maintenance and service, Understand equipment schemes and drawings for quick and accurate troubleshooting.
Operate forklifts, scissors and JLG type basket lifts.
Diagnose problems, replace, or repair parts, test and verify proper equipment operation.
Detect faulty operations, defective material, and report those and any unusual situations to proper supervision.
Comply with safety regulations and maintain clean and orderly work areas.
Perform other job-related duties as assigned.
Meet yearly personal/department S.M.A.R.T. objectives.
Minimum Experience Requirements:
2+ years, preferably in manufacturing with strong electrical knowledge reading schematics for installation and repair of production equipment.
Preferred Education Requirements:
Associates Degree in Machine Technology or other technical discipline preferred; relevant work experience may be a substitute
Required Skills:
Excellent verbal and written communication skills 
Strong attention to detail, analytical and organizational skills
Creative problem solver
Reliable, trustworthy and collaborative team player

  

Strong proficiency in MS Office and Excel
Works in production environments

Frequently standing, walking, lifting, stooping, or bending
Able to lift 50 lbs. on a regular basis
Able to work 8-12 hour shifts standing
Hiring Range of $22-$32 per hour depending on experience.
Equal Opportunity Employer