Monday, September 25, 2023
Verdeco - Shipping and Receiving Associate
Post-Hire Training
Recruitment #10-911-04
| | |
| --- | --- |
| Company | Verdeco |
| Date Opened | 6/21/2023 2:30:00 PM |
| Filing Deadline | 10/27/2023 11:59:00 PM |
| Location | Greenville, SC |
Introduction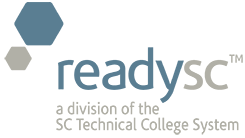 In cooperation with
Greenville Technical College
is assisting with the recruitment and training for

Potential employment opportunities exist for:
Shipping and Receiving Associate
Duties and Responsibilities:
Support the Shipping & Receiving Leader in regular duties.
Operate a forklift to load & unload materials.
Move finished goods within the warehouse to optimize space.
Place supply items at the proper storage locations. Distribute pallets to the production line staging areas as needed.
Participate in monthly physical inventory assessments.
Check and verify numbers, weight, and other information as indicated on packing sheets into the ERP system.
Complete Bill of Lading paperwork and schedule of deliveries.
Keep accurate inventory of product and supplies.
Operate machinery correctly and maintain it with care and report issues to management.
Maintain a clean and safe work area.
Observe all safety guidelines and report safety concerns to management.
Follow all written and verbal instructions.
Perform other job-related duties as assigned.
Meet yearly personal/department S.M.A.R.T. objectives.
Minimum Experience Requirements:
1-2 years previous warehouse experience preferred
Forklift experience preferred
Preferred Education Requirements:
High School diploma or equivalent required
Required Skills:
Inventory, data entry and computer skills are required.
Good communication, organizational, time management mathematical skills.
Dependable and Reliable.
Regularly required to handle or reach with hands and arms.
Regularly lift and/or move objects 10-50lbs occasionally lift and/or move objects that weigh more than 100 lbs.
Frequently required to stand, walk, stoop, kneel, crouch or crawl.
Occasionally required to sit and climb or balance.
Specific vision abilities required for this job include close vision, distance vision, color vision, peripheral vision, depth perception and ability to adjust and focus.
Equal Opportunity Employer
Click on a link below to apply for this position: