Monday, September 25, 2023
Verdeco - Quality Technician
Post-Hire Training
Recruitment #10-911-06
| | |
| --- | --- |
| Company | Verdeco |
| Date Opened | 6/21/2023 2:30:00 PM |
| Filing Deadline | 10/27/2023 11:59:00 PM |
| Location | Greenville, SC |
Introduction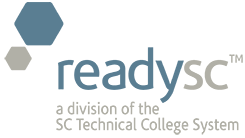 In cooperation with
Greenville Technical College
is assisting with the recruitment and training for

Potential employment opportunities exist for:
Quality Technician
Duties and Responsibilities:
Conduct raw material testing to quality incoming flake meets minimum requirements.
Verify material properties of plastic resin during manufacturing process and record data.
Operate laboratory equipment correctly and maintain it with care.
Work cooperatively with the production team to meet quotas and goals.
Maintain a clean and safe work area.
Observe all safety guidelines and report safety concerns to management.
Follow all written and verbal instructions.
Attend all safety and production trainings.
Perform other job-related duties as assigned.
Meet yearly personal/department S.M.A.R.T. objectives.
Minimum Experience Requirements:
2+ years' experience working in industrial laboratory environment is strongly preferred
Preferred Education Requirements:
High school diploma or equivalent required, technical certificate or associates degree preferred.
Required Skills:
Must be available for nights and weekends/occasional overtime
Capable of reading and understanding production documents and safety manuals
Basic math, reading, and writing skills
Basic computer skills
Willingness to comply with all safety guidelines always
Able to operate large industrial machinery
Reliable and punctual
Positive attitude and willingness to work as part of a team
Works in production environments

Frequently standing, walking, lifting, stooping, or bending
Able to lift 50 lbs. on a regular basis
Able to work 8-12 hour shifts standing
Equal Opportunity Employer
Click on a link below to apply for this position: