Sigmatex - Multi-Axial Machine Operator
Post-Hire Training
Recruitment #82-10-02
| | |
| --- | --- |
| Company | Sigmatex High Technology Fabrics Inc. |
| Date Opened | 10/16/2018 5:00:00 PM |
| Filing Deadline | 11/13/2018 12:00:00 PM |
| Location | Orangeburg |
Introduction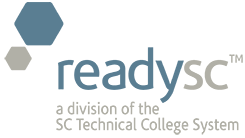 In Cooperation with
Orangeburg-Calhoun Technical College
will assist
Sigmatex Carbon Textile Solutions Inc.
in recruiting and on-the-job training for their facility.
Full time positions are available for:
Multi-Axial Machine Operator 
Sigmatex develops and manufactures carbon fiber textiles for composite material applications. From global locations, Sigmatex supplies carbon fibre textiles including 3D, spread tow, innegra, recycled, unidirectional, multiaxial, and 2D across a broad spread of industries ranging from the world's high volume automotive manufacturers to performance leisure brands and most of the world's major aerospace companies. In all cases, Sigmatex helps its customers to achieve improved product performance through lightweight strength. Sigmatex was established in 1986 and has specialized in converting carbon fibre since then.
Company website: http://www.sigmatex.com/
Job Description:  This is a non-exempt position with the purpose to work as part of the production team, to maximize efficiencies at all time, both on an individual basis as well as part of a team, and to produce high quality fabrics, making the best use of the materials being run on Liba Machines. Responsible for the safety for his/herself and that of others working in and around the immediate area.
Essential job duties will include the following:
·       Identify correct yarn/fiber and ensure documentation is entered CLEARLY and ACCURATELY.
·       Operate machinery in line with training to ensure correct procedures are adhered to ie, quality and customer requirements.
·       Support fellow team members, including trainees, to ensure everyone recognizes they are a part of a total team.
·       Mandatory adherence is required for Health and Safety regulations - mandatory PPE as instructed; Quality Plans; FOD Control and above average documentation.
Expected work ethic as follows:
·       Punctual.
·       Respectful of fellow team members/employees.
·       "Clean-as-go" attitude which supports FOD control as well as a clean work environment.
·       Motivated to accomplish organizational goals.
Applicants with textile/weaving background are encouraged to apply.
This is a 1st shift/day hour position.
Drug testing and physical exam will be given.
Military Veterans are encouraged to apply.
Sigmatex is an equal opportunity employer
Apply online now