Wednesday, November 29, 2023
Volvo Cars - Team Member
Pre-Hire Training
Recruitment #86-61-43
| | |
| --- | --- |
| Company | Volvo Cars |
| Date Opened | 7/1/2022 08:00:00 AM |
| Filing Deadline | 12/31/2023 11:59:00 PM |
| Location | Berkeley County, SC |
Introduction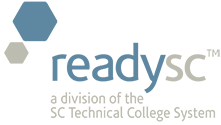 In Cooperation With
Trident Technical College
is assisting with the recruitment and training for

Potential employment opportunities exist for:
Team Member - 2nd Shift
Volvo will begin hiring 2nd Shift Team Members in September of 2023. Team Members will be trained on 1st shift (7am – 3:40pm) until 2nd shift begins in Quarter 2 of 2024. 2nd shift hours will be 3:40pm – 12:20am.
Did you know…
These important milestones support our values of Quality, Safety and Care for the Environment, and at Volvo, everything we do takes these values into consideration. 
Do these values align with your values? Do you want to be a part of the Volvo team as we continue to make ground-breaking strides in the automotive industry? 
Volvo Cars in Ridgeville, South Carolina, has openings for 900+ 2nd Shift Team Members as we ramp up to build the 2024 Volvo EX90 Full Electric 7 Seater SUV | Volvo Car USA (volvocars.com) and Polestar 3.  
Will you be our newest Volvo Car Team Member? 
In a typical day as a Volvo Car Team Member, you will:
Work in a fast-paced team environment, assembling components to build the Volvo S60, the all new and all-electric Volvo SUV and Polestar 3.
Perform processes according to an Operator Instruction Sheet in a repetitive 180-second cycle time to deliver high quality cars.
Perform safety checks during each process to assure correct assembly of components.
Utilize various hand tools in a safe manner, while also following strict PPE and safety protocols.
Be an integral part of the team, working closely with your fellow team members to ensure a quality product leaves your station.
You should apply to be a Volvo Car Team Member if….
You have a strong desire to work for a world-class, premium automaker.
Your values align with ours: safety, quality and care for the environment.
You are interested in being part of an inclusive team environment.
You have the ability to remain positive when working in challenging circumstances.
You want to come to work everyday and contribute to your team's mission.
What does it take to become a team member at Volvo Cars?
You have a High School Diploma or GED
You are 18 years of age or older
You are legally authorized to work in the US without sponsorship, both currently and in the future
You have a strong desire and ability to work in a team environment
You have excellent interpersonal skills
You are willing to work any shift (including weekends, holidays and overtime)
You are willing to work overtime, as needed
You have the ability to perform the essential functions of the job, such as lifting and moving up to 33lbs, standing for extended periods of time, bending, squatting, kneeling or climbing stairs or ladders
You have reliable transportation to and from work everyday
You have the ability to perform repetitive motion work
You have the ability to attend 1 day of unpaid, pre-hire training
You have the ability to pass a pre-employment drug screen, physical and satisfactory background check
Additional requirements may apply.
Training will be at no charge to trainees.
Successful completion of the training program carries no obligation to accept any offer of employment, nor is an offer guaranteed.
The starting wage for a Team Member is $21.00 with a very competitive pay progression schedule. Once Team Members are working 2nd shift hours, an hourly Shift Premium will be added. Volvo Cars also offers a comprehensive benefits package. Employees are eligible for most benefits on the first day of employment.
IMPORTANT DISCLAIMER NOTICE:
 The job duties, elements, responsibilities, skills, functions, experience, educational factors, and the requirements and conditions listed in this job description are representative only and are not exhaustive of the tasks that an employee may be required to perform. The Company reserves the right to revise this job description at any time and to require employees to perform other tasks as circumstances or conditions of its business competitive considerations, or the work environment change.
An Equal Opportunity Employer
Click on a link below to apply for this position: