Mercedes-Benz Vans, LLC - Mechatronics Technician
Post-Hire Training
Recruitment #87-14-18
| | |
| --- | --- |
| Company | Mercedes-Benz Vans, LLC |
| Date Opened | 12/1/2017 5:00:00 PM |
| Filing Deadline | 2/23/2018 4:00:00 PM |
| Location | Charleston |
Introduction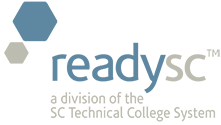 readySC™
In Cooperation With
Trident Technical College
is assisting with the recruitment and training for
Current employment opportunities exist for:
Mechatronics Technician
From passenger cars to commercial vans, the Mercedes-Benz brand stands as one of the Daimler Group's many success stories. The Daimler Group consists of several companies with more than 280,000 employees worldwide who put into practice the core values of Passion, Respect, Integrity and Discipline each day. We believe it is our mission and our duty to shape the future of mobility in a safe and sustainable manner - with trendsetting technologies, outstanding products and made-to-measure services.  
Here in North Charleston, SC, Mercedes-Benz Vans, LLC is writing an exciting chapter in Daimler's history as we add the first U.S. van production plant for the Mercedes-Benz Sprinter, in addition to our existing assembly operation for Sprinter and METRIS vans. Our slogan is "Vans. Born to Run." and we invite engaged, innovative job candidates to run the ramp up of our new facility with us! 
Job Overview:   The Mechatronics Technician is responsible for maintaining production equipment to ensure the daily production requirements at Mercedes-Benz Vans are met.
Responsibilities:
Perform mechanical repair work including necessary disassembly and assembly

Repair complex equipment and manufacturing systems while coordinating with all conditions on-site in compliance with OSHA and EPA regulations

Analyze repair situations with economic considerations (e.g. partial vs. complete disassembly)

Maintain and repair the machinery according to preventative maintenance plans

Fabricate parts and groups of parts for machinery and production equipment, disassemble and assemble machinery parts, change parts and set up the production equipment

Identify and analyze errors and malfunctions

Analyze non-obvious failures of equipment/manufacturing systems such as intermittent/inconsistent failures, complex mechanical components, possibility of error chain

Use different measuring devices (such as flow meter, pressure gauge) and apply methodology in the analysis

Implement countermeasures for the elimination of mechanical vulnerabilities

Improvements, extensions, and modifications

While incorporating specifications, guidelines, and regulations, independently construct or design equipment with use of mechanical components, hydraulic and pneumatic systems, and cooling/lubrication systems

Procure operative materials, equipment, and service providers

Staff support or allocation 
Qualifications:
High School Diploma or GED with a minimum of 5 years of relevant industrial maintenance experience or Associates Degree in a technical trade (industrial technology, electronics, mechatronics, etc.) and 2 years relevant industrial maintenance experience

Knowledge of industrial AC/DC electricity [24V – 480V], mechanical, hydraulics, and/or pneumatics required

Experience changing out bearing and motors preferred

Basic computer skills required (i.e. Microsoft Office, email)

PLC/BUS system education and/or experience strongly preferred

Robotics (Kuka, Durr) experience strongly preferred

Oven and paint booth supply air maintenance experience preferred (i.e. Maxon Gas Train)

Pumping system maintenance experience preferred

Conveyor system maintenance experience preferred

Strong communications skills (listening, speaking, writing)
IMPORTANT DISCLAIMER NOTICE The job duties, elements, responsibilities, skills, functions, experience, educational factors, and the requirements and conditions listed in this job description are representative only and are not exhaustive of the tasks that an employee may be required to perform. The Company reserves the right to revise this job description at any time and to require employees to perform other tasks as circumstances or conditions of its business, competitive considerations, or the work environment change. 
Mercedes-Benz Vans, LLC ("MBV") is a plant in Ladson, South Carolina that assembles Sprinter vans for the U.S. market under the brands Mercedes-Benz and Freightliner. The midsize Metris van was added to the assembly line in 2015.  
Mercedes-Benz Vans, LLC announced in March 2015 that it will invest $500 million in construction of a new Sprinter production plant, in addition to an expansion of existing operations. In July 2016, MBV officially broke ground on the site of its new plant, located next to existing operations in the North Charleston area. The MBV facility will provide up to 1,300 jobs by the end of the decade.  
More than 112,000 Sprinters have been assembled in North Charleston and delivered to destinations in the U.S. since 2006. The U.S. is now the second largest market for Sprinter vans, after Germany
Training will be at no charge to trainees.

 

Successful completion of the training program carries no obligation to accept any offer of employment, nor is an offer guaranteed 
An Equal Opportunity Employer