Dollar Tree - General Warehouse Associates
Post-Hire Training
Recruitment #88-84-01
| | |
| --- | --- |
| Company | Dollar Tree |
| Date Opened | 4/26/2018 10:00:00 PM |
| Filing Deadline | 5/31/2018 5:00:00 PM |
| Location | Cherokee |
Introduction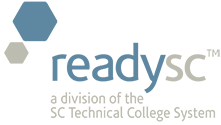 readySC™
In Cooperation With
Spartanburg Community College
is assisting with the recruitment and training for
Dollar Tree
Dollar Tree is a Fortune 500 Company that operates more than 13,000 retail store locations in 48 states and five Canadian provinces with annual sales exceeding $19 billion.  We are seeking experienced individuals for general warehousing roles in our brand at our state-of-the-art, and fully automated 1.5M sq. ft. Distribution Center in Cowpens, SC. 
Click the Job Posting for more information and to apply
You will be directed to the Dollar Tree Job Site
General Warehousing-Inbound/Outbound, Order Selectors (case pick) and Forklift Drivers
In addition to competitive wages, Dollar Tree offers a full benefits package including: Medical, Dental, Vision. Life Insurance, Short-Term Disability, Long-Term Disability, 401K, Profit Sharing and Discount Employee Stock Purchase 
To find all jobs search for "Cowpens"
An Equal Opportunity Employer