Minghua USA, Inc. - VNA/Turret Truck Operator
Post-Hire Training
Recruitment #91-75-33
| | |
| --- | --- |
| Company | Minghua USA, Inc. |
| Date Opened | 11/22/2017 12:00:00 PM |
| Filing Deadline | 7/2/2018 12:00:00 AM |
| Location | Spartanburg |
Introduction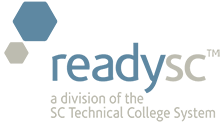 readySC™
In Cooperation With
Spartanburg Community College
is assisting with the recruitment and training for

Minghua USA, Inc.
Minghua USA, a division of Jiangnan Mold Plastics Technology Corporation, is in the process of opening a new facility in Spartanburg County.  One of the largest suppliers of plastic mold parts in China's automotive industry, Jiangnan Mold Plastic Technology Corporation specializes in the development, manufacturing and sales of plastic products and hi-tech molds. The company will manufacture a variety of parts and products for original equipment manufacturers and tier one suppliers in the automotive industry.  



Potential employment opportunities exist for:
VNA/Turret Truck Operator
 Initial Job Duties:
Move controls, devices, and levers to drive forklifts of industry to transfer materials between unloading, processing, loading, and storage areas.

Organize and secure stored materials such as bales, super sacks, boxes, pallets, and so on.

Load or unload materials manually, off or on to pallets, platforms, skids, or lifting devices.

Perform routine post and pre-inspections to ensure suitable working nature of forklift equipment.

Report to supervisor regarding any damage to racks, faulty equipment, or any other safety hazards.

Weigh products or materials, and recording weight and further production information on labels and tags.

Consult, work with, and coordinate with supervisors, managers, equipment manufactures, and employees regarding unloading and loading operations.

Wrap material loads with a wrapper and clean the warehouse premises.

Complete forklift operator training provided by the industry annually.

Perform other duties as allotted by a manager or supervisor.
 Qualifications and Experience: 


High school diploma or GED required.

Must have a valid driver's license

Prior forklift or material handling equipment is preferred.

1+ year working experience in driving a turret/swing reach truck. 

Excellent teamwork skills.

Ability to read labels and numbers.

Ability to operate in high speed and fast-paced environment.

Ability to add, subtract, and multiply.

Good physical health.

Able to follow instructions as directed by the supervisor.

Ability to stand for a long time.

Must be able to lift 60 lbs. with or without manual or mechanical assistance
Minghua USA offers competitive wages and a full benefits package that will include Medical, Dental, Vision, Life, AD&D, Short Term Disability Paid Vacation, 401k Retirement Plan and Free Lunch. 
Go to www.readysc.org/Minghua for more information
An Equal Opportunity Employer