RBC AeroStructures - Machinists
Post-Hire Training
Recruitment #92-30-06
| | |
| --- | --- |
| Company | RBC AeroStructures |
| Date Opened | 6/9/2018 08:00:00 AM |
| Filing Deadline | 11/1/2018 12:00:00 AM |
| Location | Oconee |
Introduction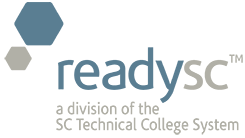 is assisting with the recruitment and training for
RBC AeroStructures
RBC AeroStructures is a global provider of precision fabricated tubular and machined parts.  We also provide Mil-Spec painting, plating and nondestructive testing to the most exacting customer standards in the industry. RBC AeroStructures is a division of RBC Bearings, Inc., headquartered in Oxford, CT.
Potential Employment Opportunities Exist for:
 Machinists
1st and 2nd Shift
Under minimal supervision, sets up and operates manually controlled machines in skilled precision and bench work in fabrication, maintenance, repair and alteration of machinery, machine parts, tools and equipment.  
Qualifications and requirements include:  High School Diploma/GED, Pass Felony background check
Responsibilities/Duties include but are not limited to:
Performs all tasks in a safe and responsible manner.

Reads and interprets blueprints.

Uses gages and measuring instruments to meet tolerance requirements.

Uses precision tools, machinery and equipment such as lathe, vertical milling machine and drill press.

Properly selects, aligns, secures and removes holding fixtures, cutting tools, attachments and materials onto machines. Perform inspection of machined products (including documentation of results).

Complete and maintain paperwork for parts.

Perform basic troubleshooting as required.

Utilizes and abides by ISO requirements, regulations and instructions.

Must also comply with quality policies, specs and other instructions.
 

Physical Requirements: 

Must be able to lift occasionally and/or assisted 65 lbs as needed.
An Equal Opportunity Employer