C.H. Muller, Inc. - Machine Operator
Post-Hire Training
Recruitment #92-47-01
| | |
| --- | --- |
| Company | C.H. Müller, Inc. |
| Date Opened | 4/5/2018 12:00:00 PM |
| Filing Deadline | 4/30/2018 11:59:00 PM |
| Location | Spartanburg |
Introduction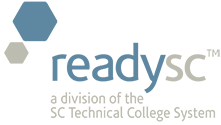 readySC™
In Cooperation With
Spartanburg Community College
is assisting with the recruitment and training for
C.H. Müller, Inc.
C.H. Müller, Inc. is seeking qualified candidates for our new start-up location in Greer.  C.H. Müller, Inc.  is a manufacturer of laminated and coated complexes.  We primarily supply the Automotive and Aviation industry.
Potential employment opportunities exist for:
Machine Operator
  Job Duties:
Comply with OSHA safety and health rules.

Ability to work and function in a self-contained, team-oriented manufacturing environment.

Performs typical lamination and bonding machine processes to support the manufacturing operation. 

Detects and reports defective materials or questionable conditions to the production supervisor.

Maintains the work area and equipment in a clean orderly condition and follows prescribed safety regulations.

Performs prescribed preventative maintenance on machines as required per the preventative maintenance charts.

Must be familiar with the basic machine functions to perform all tasks properly and safely. 

Working knowledge of relevant machine applications including set-up.

Must be willing to accept and receive frequent supervision and assistance with machine operation.
 Experience Required: 
High school diploma or GED.

5 years' experience in manufacturing, preferably in an automotive environment.

Training in general safety, manufacturing machine operations and quality system awareness.

Teamwork Orientation.

Time Management.

Performance Management.

Results Driven.
An Equal Opportunity Employer
Selection Plan
All applications are first screened by the local SC Works office.  Those that meet the minimum qualifications are sent to the company for evaluation.  The company has the final decision on who is invited to continue in the process.  You will be contacted by phone or email if you are selected.