C.H. Muller, Inc. - Sewing Machine Operator
Post-Hire Training
Recruitment #92-47-04
| | |
| --- | --- |
| Company | C.H. Müller, Inc. |
| Date Opened | 3/11/2019 12:00:00 PM |
| Filing Deadline | 4/30/2019 11:59:00 PM |
| Location | Spartanburg |
Introduction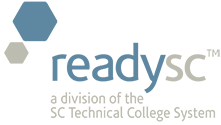 readySC™
In Cooperation With
Spartanburg Community College
is assisting with the recruitment and training for
C.H. Müller, Inc.
C.H. Müller, Inc. is seeking qualified candidates for our new start-up location in Greer.  C.H. Müller, Inc.  is a manufacturer of laminated and coated complexes.  We primarily supply the Automotive and Aviation industry.
Potential employment opportunities exist for:
Sewing Machine Operator
The Sewing Machine Operator position operates and troubleshoots machinery to reach production optimization of process parameters. They will actively monitor and comply with all quality standards established to minimize defective product.  Outstanding starting wage and company benefits.
  Job Duties:
Comply with OSHA safety and health rules

Ability to work and function in a self-contained, team-oriented manufacturing environment

Completes detailed instructions from job orders accurately and precisely

Sew leather according to the production process

Ability to thread sewing machines & change needles safely

Support Pre-Production activities as needed

Perform final inspection on leather

Support general Production activities as needed

Monitors machines during job runs, checks precision or detail against specifications and acts to correct any problems
 Qualifications and Skills: 
Experience using industrial/commercial sewing machines required

Pattern development experience a plus

Ability to multi-task and be flexible to be cross-trained

Capacity to listen to directions and apply the skills taught Working well in a team and individual settings

Adheres to safety guidelines and keeps work space clean and organized

High school diploma or GED.

Training in general safety, manufacturing machine operations and quality system awareness.

3 years' experience in sewing operations within a manufacturing environment.
C.H. Müller, Inc. offers health insurance benefits including medical, dental, vision Other benefits include 401k life insurance and short-term, long-term disability insurance  
An Equal Opportunity Employer
Selection Plan
All applications are first screened by the local SC Works office.  Those that meet the minimum qualifications are sent to the company for evaluation.  The company has the final decision on who is invited to continue in the process.  You will be contacted by phone or email if you are selected.