Thorne - Mixing Operator - 1st and 2nd Shift
Post-Hire Training
Recruitment #92-94-10
| | |
| --- | --- |
| Company | Thorne |
| Date Opened | 2/16/2018 11:00:00 AM |
| Filing Deadline | 10/18/2018 11:59:00 PM |
| Location | Berkeley |
Introduction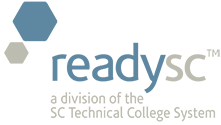 readySC™
In Cooperation With
Trident Technical College
is assisting with the recruitment and training for

Thorne is a health and technology company that is disrupting prevention and wellness. By combining dietary and lifestyle recommendations with nutritional supplement intervention, Thorne is at the forefront of personalized health, with a mission to help consumers take control of their health and live a healthy life. Thorne provides at-home biomarker tests to bring the doctor to the consumer's home. By leveraging its sophisticated analytical software, Thorne helps consumers uncover health insights and confidently take action to optimize health outcomes. Based on individual test results, Thorne's technology and team can deliver a personalized plan on what to eat, how to exercise, and which Thorne supplements to take.
Thorne is the only supplement manufacturer to collaborate with Mayo Clinic on wellness research and content, and is the proud partner of a number of U.S. National Teams, including U.S. Soccer, USA Hockey, and USA Triathlon. Thorne is one of the fastest growing supplement companies, and is rated the top practitioner-dispensed brand among 30-40 year-olds. For more information visit https://www.thorne.com/.
Thorne is has a new manufacturing facility in Summerville, SC
Potential employment opportunities exist for:
Mixing Operator
1st and 2nd Shift
Job Description:
The Mixing Operator follows Production Department procedures and performs specific duties based on the Standard Operating Procedures (SOPs) and Good Manufacturing Practices (GMPs) for the Production Department.
Responsibilities: 
Employee becomes knowledgeable of the applicable provisions of the Production Department's Standard Operation Procedures (SOPs) and Good Manufacturing Practices (GMPs) and follows them.

Employee remains knowledgeable on an ongoing and timely basis as changes in the SOPs and GMPs occur. In time, employee becomes cross-trained in at least two of the production sections listed below.

Employee willingly works in the different production areas as assigned.

Commits to the Mixing Credentialed Training program where the proper operating knowledge, skills and experience are acquired to meet the high quality of proficiency expected as a Thorne operator.

Quickly sets up all phases of Mixing for smooth operation and maximum output, while maintaining quality and integrity of the product.

Immediately notifies lead/supervisor of any machine problems or anomalies outside of normal operations that effect output and the well-being of the equipment or the quality of the product.

Has sufficient knowledge of the dispensing, mixing, milling and chilsonation equipment to make adjustments, without supervision, within guidelines outlined in the applicable SOP and current Mixing Credentialed Training program level.

Is aware of cross-contamination issues while working with multiple raw materials and exhibits vigilance in taking proper precautions (changes gloves, proper cleaning of equipment in between use of raw materials).

Properly weighs out ingredients as directed by the MMR and MDR's. Records all weights accurately and neatly on paperwork as directed by the control batch documents and dept. SOP's.

Properly enters and calculates all dispensing weights using a calculator for accuracy and secures a validating second sign off as having done so.

Maintains a reasonable working pace while dispensing, milling,

chilsonating and cleaning.

Sets up the Fitz mill, Chilsonator, and related equipment to achieve positive results as outlined.

Learns and maintains all technical procedures related to assembly and disassembly of equipment and maintains the overall condition of the machine parts and machine.

Accurately performs slug tests and all other tests as required, to all finished capsule batches, informs supervisor when results are outside the useable range for each capsule.

Operates the forklifts properly, keeps certified annually, and maintains a safe working environment while doing so.

Once the employee is fully trained and certified in any of the following areas, Blend/Mix/Mill, Dispense/Weigh, Chilsonation and the Marion Mixer, they are capable of training operators on the equipment and tasks for that area. The trainer will assume the responsibility for the trainees' performance until the trainee has been signed off to complete the tasks alone. 
Qualifications, Experience, and/or Education:
Experience and/or Education:   By training, education and/or experience, employee must be able to perform the essential duties of the job.
By training, education and/or experience, employee must be able to perform the essential duties of the job.

High school diploma or general education degree (GED) is preferred
Language Ability:
Employee is able to read and understand written directions in English, including Standard Operating Procedures (SOPs), Good Manufacturing Practices (GMPs), and the Thorne Research Employee Handbook.

The employee follows instructions, both verbal and written, and communicates effectively with supervisors and fellow employees. 
Math Ability:
Employee has the ability to add, subtract, multiply, and divide in the units of measurement used in the Production Department, using whole numbers and decimals (for example, grams). 
Physical Demands: 
Must be able to work an entire shift, when necessary, in an enclosed room.

Must be medically qualified to work while using a half-mask respirator or a full-air respirator for up to four hours at a time and be able to follow Thorne Research's Respiratory Protection Program guidelines.

Must be able to work in a stationary position as well as move about unassisted.

Must be able to safely and carefully operate and use assigned production equipment and machinery.

Must be able to stoop, kneel, crouch, or crawl as circumstances arise during the course of a shift.

Must be able to operate, activate, use, prepare, and clean production equipment, occasionally grasping with force and using twisting wrist movements.

Must have sufficient range of motion with arms and hands to reach overhead and to the side, often repetitively, during a 12-, 10- or 8-hour shift.

Must be able to hear and converse with supervisors and other employees.

Must be able to see and read small print.

Must be able to work in a moderate noise level environment.

Must be able to work a 12-, 10- or 8-hour shift and overtime as assigned.

Must be able to ascend/descend a ladder while carrying up to 20 pounds of materials.

Must be able to lift unassisted approximately 30kg (60 pounds) from floor to table, slowly and carefully lowering on a scale, and from table to shoulder height on a regular basis.

Maintain a professional attitude and appearance.

Employees are expected to meet the Physical Demands of their job, which is an essential duty of this job. If requested and deemed appropriate, Thorne Research will provide a reasonable accommodation to a disabled employee to meet the Physical Demands of the job.
THORNE RESEARCH IS AN EQUAL OPPORTUNITY EMPLOYER