Thorne - Quality Control Inspector - 1st and 2nd Shift
Post-Hire Training
Recruitment #92-94-11
| | |
| --- | --- |
| Company | Thorne |
| Date Opened | 2/16/2018 11:00:00 AM |
| Filing Deadline | 10/18/2018 11:59:00 PM |
| Location | Berkeley |
Introduction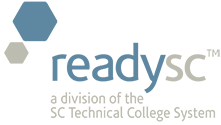 readySC™
In Cooperation With
Trident Technical College
is assisting with the recruitment and training for

Thorne is a health and technology company that is disrupting prevention and wellness. By combining dietary and lifestyle recommendations with nutritional supplement intervention, Thorne is at the forefront of personalized health, with a mission to help consumers take control of their health and live a healthy life. Thorne provides at-home biomarker tests to bring the doctor to the consumer's home. By leveraging its sophisticated analytical software, Thorne helps consumers uncover health insights and confidently take action to optimize health outcomes. Based on individual test results, Thorne's technology and team can deliver a personalized plan on what to eat, how to exercise, and which Thorne supplements to take.
Thorne is the only supplement manufacturer to collaborate with Mayo Clinic on wellness research and content, and is the proud partner of a number of U.S. National Teams, including U.S. Soccer, USA Hockey, and USA Triathlon. Thorne is one of the fastest growing supplement companies, and is rated the top practitioner-dispensed brand among 30-40 year-olds. For more information visit https://www.thorne.com/.
Thorne is has a new manufacturing facility in Summerville, SC
Potential employment opportunities exist for:
Quality Control Inspector 
1st and 2nd Shift 
Job Description:
The Quality Control (QC) Inspector follows established procedures to perform activities associated with the sampling, inspection, testing, and examination of incoming materials, mixtures, in-process materials, and finished products.
Responsibilities: 
Employee is knowledgeable of the applicable Standard Operating Procedures (SOPs), Good Manufacturing Practices (GMPs), Work Instructions (WIs) and must follows them.

Employee remains knowledgeable on an ongoing and timely basis as changes in the SOPs, WIs and GMPs occur.

Employee is at work as scheduled, starts work at the beginning of a shift, works until the end of their shift is on time to meetings, completes assigned tasks in a competent timely manner, and works overtime as required.

Avoids overtime and ensures none is accrued unless pre-authorized.

Employee knows and follows the applicable policies and procedures and Thorne Research policies and procedures as outlined in the Employee Handbook.

Employee pays attention to detail.

Employee completes paperwork accurately, neatly and fully.

Employee willingly works in the different areas as assigned and seeks to perform value added work at all times

Employee gets along with co-workers and supervisors.

Employee responds appropriately to criticism and instructions from supervisors.

Employee follows the Standards of Conduct as outlined in the latest version of the Thorne Research Employee Handbook.

Employee demonstrates a working knowledge of the overall functions of production and the flow process, is aware of cross contamination issues in the manufacturing facility, and exhibits vigilance in taking proper

 precautions to maintain a safe and clean environment.

Employee takes initiative and makes sound decisions within the guidelines provided, and is willing, if necessary, to stop a procedure or process when SOP or product quality is in question.

Responsible for ensuring line clearances are conducted and that the correct cleaning method is utilized. Inspects and verifies that product and materials have been removed from previous product runs.

Ensures proper cleanliness of rooms and manufacturing facility. Responsible for performing relevant tasks necessary to determine if the room passes the cleaning standards set forth by the company.

Responsible for sampling, packaging inspection and release. Samples, and inspects incoming materials, mixtures, and in-process materials.

Employee compares materials against established specifications to determine if the material conforms to the specifications.

Responsible for verification of various manufacturing measuring equipment as well as reviewing and maintaining neat and accurate log books in accordance with established procedures, including removal of non-functioning equipment.

Responsible for updating electronic and document systems to reflect disposition status of materials. 

Respirator Maintenance – Ensures proper fit, use and cleanliness. Stores in accordance with written procedures. Required to wear respiration protection as needed for the work performed.

Performs AQL Sampling inspections throughout manufacturing operations. Responsible for being consistent and on time with Quality Control checks in the production facility, and exhibits the capability to thoroughly and rapidly perform them.

Performs verification on Incoming, In-process, and Outgoing products. Performs complete layout inspection by measuring dimensions, such as length and height using precision instruments such as calipers, ruler or tape measure.

Responsible for verifying and at times calculating yield reconciliation r

esults, participating in investigations when yield calculations are outside of the acceptable range and ensuring that material is not released until investigations are complete and a disposition has been determined.

Responsible for aspects of the deviation process including but not limited to reviewing and monitoring Deviation Authorizations, and performing verifications as needed. Reads and evaluates documents for accuracy and consistency of terminology and ensures the documents clearly represent the actions performed. Also ensures the content is written appropriately for those performing the action and submits Change Requests as necessary to make adjustments.

Collaborates on Incident Reports, aids in investigation, determination of the magnitude and type of problems as well as resolutions. In cooperation with the Supervisor on duty, consults with technical personnel while assisting with the investigation. Gives instruction for further action. Assists in the investigation, quarantines and transfers of items if the product requires additional investigation or is a non-conforming product.

Rejecting Material –Transfers rejected items accordingly. Ensure product is moved to an appropriate quarantine location. Identifies, analyzes, and evaluates risks for process improvements. ERP System Packaging, Label and component Release – Responsible for knowing and understanding the ERP system for basic transactions.

Promote an accountable, innovative, and results-oriented culture promoting openness, teamwork, mutual trust, and respect. Seek formal and informal performance assessments of self, including performance versus expectations and goals, behaviors, and leadership potential.
Qualifications, Experience and/or Education:  
By training, education and/or experience, employee must be able to perform the essential duties of the job.

High school diploma or general education degree (GED) is required.

 

 

 
Language Ability:
Employee is able to read and understand written directions in English, including Standard Operating Procedures (SOPs), Good Manufacturing Practices (GMPs), and the Thorne Research Employee Handbook.

The employee follows instructions, both verbal and written, and communicates effectively with supervisors and fellow employees.

 
Math Ability:
Employee has the ability to add, subtract, multiply, and divide in the units of measurement used in the Quality Department, using whole numbers and decimals (for example, grams).

 
Reasoning Ability:
Employee is able to solve practical problems and deal with a variety of concrete variables in situations where only limited standardization exists. Employee is able to interpret a variety of instructions furnished in written, oral, diagram or schedule form. 
Computer and Technical Skills:
Employee can use hand held calculators to perform basic math calculations to complete records accurately. Employee has basic computer skills and Microsoft Office experience. 
Physical Demands: 
Must be able to work while using a half-mask respirator or a full-air respirator for up to four hours at a time and be able to follow Thorne Research's Respiratory Protection Program guidelines.

Must be able to work in a stationary position as well as move about unassisted. Must be able to safely and carefully operate and use assigned equipment and machinery.

Must be able to stoop, kneel, crouch, or crawl as circumstances arise during the course of a shift.

Must be able to operate, activate, use, prepare, and clean equipment, occasionally grasping with force and using twisting wrist movements.

Must be able to hear and converse with supervisors and other employees.

Must be able to work independently with limited supervision.

Must be able to interact with other departments to ensure compliance with specifications and to facilitate the acceptance of parts.

Must be able to complete all required training levels

Must be able and willing when needed to assist and train new QC inspectors

Must be able to see and read small print and be able to distinguish colors.

Must be able to work in a moderate noise level environment.

Must be able to work a 12-, 10- or 8-hour shift and overtime as assigned.

Must be able to move or lift items weighing up to 60 pounds from floor to table and from table to floor, occasionally, during a 12-, 10- or 8-hour shift.

Must have sufficient range of motion with arms and hands to reach overhead and to the side, often repetitively, during a 12-, 10- or 8-hour shift.

Must be able to ascend/descend a ladder while carrying up to 20 pounds of materials.

Must be able to work in a fast-pace environment.

Employees are expected to meet the Physical Demands of their job, which is an essential duty of this job. If requested and deemed appropriate, Thorne Research will provide a reasonable accommodation to a disabled employee to meet the Physical Demands of the job.
THORNE RESEARCH IS AN EQUAL OPPORTUNITY EMPLOYER