SCHEDL Automotive System Serv.-Yard Specialist/Jockey–CDL Driver
Post-Hire Training
Recruitment #95-20-03
| | |
| --- | --- |
| Company | SCHEDL Automotive System Service |
| Date Opened | 11/29/2017 10:00:00 AM |
| Filing Deadline | 6/30/2018 12:00:00 AM |
| Location | Spartanburg |
Introduction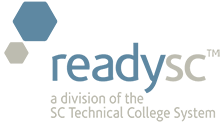 readySC™
In Cooperation With
Spartanburg Community College
is assisting with the recruitment and training for
Spartanburg SCHEDL Automotive System Service LP
SCHEDL Automotive System Service Ltd is an international system supplier for various car manufacturers in Germany, Asia and Europe. Wheel and tire assembly on a high industrial level and challenging logistics services are our core businesses. Quality and Service are our main priority. 
SCHEDL is seeking qualified candidates for our new start-up location in Duncan. SC.
Potential employment opportunities exist for:
Yard Specialist/Jockey – CDL Driver
 Job Duties:
Perform basic yard spotter duties including daily yard check.

Oversee daily operation of the yard. Responsible for all trailer moves to and from docks and drop yards.

Operate spotter truck, moving trailers between trailer yard and dock doors and logging all trailer moves to maintain accurate yard inventory.

Support production by following all safety measures and policies and demonstrating safe behavior.
 Competencies, Knowledge, Skills, Abilities: 
Climb in and out of the spotter truck numerous times per day, hooking and unhooking trailers.
Must be able to use Microsoft Office programs.
Must possess teamwork and flexibility.
Must be able to stand and move continuously during working hours.
Must be able to consistently lift up to 40 lbs.
Must have the ability to follow instructions, written and verbal. Must be able to read and write English.
Must have ability to regularly bend, lift, stretch and reach below the waist and above the head
Experience Required: 
Must have valid Class A CDL license.
Must have 6 months of verifiable Class A CDL experience within the last year.

Must have a clean driving record.

High School Diploma or GED required.

1-year previous manufacturing experience required.

Drug screen and background check required.

Willingness to work rotating shift.

 

 

SCHEDL offers health insurance benefits including Medical, Dental and Vision. Other benefits include 401 (K) Plan and Worker's compensation.    

 

 Starting wage is between $15 - $17 per hour, depending on experience.

 

 

An Equal Opportunity Employer
Selection Plan
All applications are first screened by the local SC Works office.  Those that meet the minimum qualifications are sent to the company for evaluation.  The company has the final decision on who is invited to continue in the process.  You will be contacted by phone or email if you are selected.