Sundaram - Clayton Limited - Maintenance Technician
Post-Hire Training
Recruitment #96-02-02
| | |
| --- | --- |
| Company | Sundaram - Clayton Limited |
| Date Opened | 1/16/2019 1:00:00 PM |
| Filing Deadline | 2/4/2020 1:00:00 PM |
| Location | Dorchester |
Introduction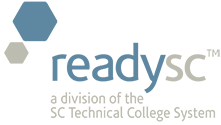 readySC™
In Cooperation With
Trident Technical College
is assisting with the recruitment and training for

Sundaram - Clayton Limited (SCL) is a Chennai based TVS Group company under the chairmanship of Venu Srinivasan. It provides aluminium and magnesium castings for the automotive industry.
Potential employment opportunities exist for:
Maintenance Technician
Job Description:
Responsible for maintenance, installation, effective evaluation and repair of production equipment and infrastructure. 
Responsibilities: 
Troubleshoots and diagnoses electrical, hydraulic, mechanical and pneumatic deficiencies of production equipment.

Interprets and utilizes electrical, hydraulic, mechanical and pneumatic drawings of production equipment.

Operates and evaluates performance of production equipment; and corrects deficiencies.

Welds and follows safe welding practices.

Adheres to and maintain a positive attitude; Show respect for others;

Meet commitments; Maintain transparency; Do not cater to rank.

Performs other duties as assigned.

Utilizes hand tools, power tools, and hoists/cranes to repair and maintain production equipment.

Utilizes calipers, micrometers and other gauges to evaluate production equipment components.

Identifies and specifies required machine components.

May be trained and assigned to operate a forklift. Keeps work area clean of debris and safety hazards.

Complies with Safety Policies and reports unsafe conditions.

May be trained and assigned to perform Plant Start-up & Shutdown Procedures and Weekend/Holiday Shutdown Facilities Check.

May be assigned Team Leader responsibilities (guidance of B level and lower maintenance mechanics).
Qualifications, Experience and/or Education:  
High School Diploma or equivalent and a minimum of five (5) years of experience as a maintenance technician.

Ability to read, write, speak and understand English well.

Must demonstrate capability of using hand and power tools.

Understands safety policies, quality policy and environmental policies.

Has basic understanding of PLC's, LOTO etc.
SCL/SCUSA IS AN EQUAL OPPORTUNITY EMPLOYER