Electro-Spec Carolina, Inc. - Production Operator/Electro-Plater
Post-Hire Training
Recruitment #96-20-01
| | |
| --- | --- |
| Company | Electro-Spec Carolina, Inc. |
| Date Opened | 11/16/2018 12:00:00 PM |
| Filing Deadline | 12/26/2018 11:59:00 PM |
| Location | Lexington |
Introduction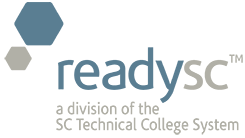 is assisting with the recruitment and training for:
Electro-Spec, Inc.
Potential employment opportunities exist for:
Production Operator/Electro-Plater
Production Operator, Lexington, SC - Job Details | Indeed.com
Responsibility/Requirements:
· Ability to stay organized and apply logical thinking skills
· Follow established processes and procedures
· Read/Utilize trouble shooting guides for equipment and quality issues
· Visual inspection of equipment, structures, and material to identify any problems or errors
· Ability to work individually or as part of a team
· Ability to wear the prescribed personal protective equipment (PPE) – company provided
· General physical activities –included but not limited to, sitting, walking, lifting, and standing
· Helpful but not necessary, the ability to read and interpret blueprints, manufacturer's spec, internal drawings, and procedures
· Attention to detail
· Good attendance
· Must have reliable transportation
· Good hand-eye coordination and manual dexterity
· High School diploma or equivalent
Hours:
Normal shift hours are 9:30 am – 6:00 pm. M-F
Benefits:
60 days - Insurance Benefits available (Medical, Dental, Vision, & Life)
90 days – 401K/Roth
Vacation and Flex Time
Holiday Pay
Job Type: Full-time
Starting Wage: $13.00/hr with merit review in 90 days.
Job Type: Full-time
Salary: $12.00 to $13.00 /hour
Job Type: Full-time
Salary: $12.00 to $13.00 /hour
Experience:
Manufacturing: 1 year (Preferred)
Education:
High school or equivalent (Required)
Work authorization:
To apply, click here
or cut and paste this link into your browser:
https://www.indeed.com/cmp/Electro--Spec-Carolina/jobs/Production-Operator-0ffface668b1f27c?vjs=3 
You will be taken to Indeed.com to submit your application.