Steel Creek Galvanizing, LLC - Maintenance Supervisor
Post-Hire Training
Recruitment #97-60-01
| | |
| --- | --- |
| Company | Steel Creek Galvanizing, LLC |
| Date Opened | 8/29/2018 11:00:00 AM |
| Filing Deadline | 10/31/2018 11:59:00 PM |
| Location | Cherokee |
Introduction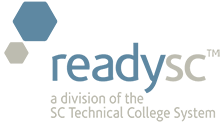 readySC™
in cooperation with
Spartanburg Technical College
is assisting with the recruitment and training for
Steel Creek Galvanizing, LLC
Steel Creek Galvanizing, LLC is launching a new facility in Cherokee County.  Designed to protect steel against rust and other corrosion, the hot-dip galvanizing operation will be an environmentally-friendly, zero-emission operation.  We are seeking qualified candidates for the start-up of our new facility in Blacksburg.
Potential employment opportunities exist for:
Maintenance Supervisor
Job Duties:
·        Plans, estimates, schedule, and coordinate maintenance work. Provides effective maintenance service for plant while striving to limit down time and reduce costs.
·        Responsible for single point coordination of emergency off-shift and weekend repair needs.
·        Maintains liaison with other plant departments to keep an awareness of safety and maintenance problems. Responsible for "first alert" detection of equipment.
·        Assists in the development of Production Department repair budgets, capital equipment selection, and major modifications and upgrades to equipment.
·        Interfaces and selects outside vendors for maintenance needs.
·        Proactively promotes, coordinates, and implements programs for the conservation of resources.
·        Promotes and/or assures presence of preventative maintenance programs. Effects changes to reduce maintenance costs of equipment and facilities.
·        Establishes department goals and objectives, using measurable indicators, and assesses department progress.
·        Reviews capital projects for standardization, ease of maintenance, optimum functionality, and minimal failure rates.
·        Develops annual budget and plans manpower levels. Takes appropriate action to ensure costs fall within budget.
·        Responsible for overall departmental safety and awareness of potential hazards. Promotes safe operating habits for maintenance personnel and safe operation of plant equipment.
·        Manages, hires, and develops staff. Conducts their annual performance appraisal. Responsible for the quality and skill level of maintenance department.
·        Implement preventative maintenance program.
Experience Required:
·        High School diploma required. 2-year technical school or equivalent experience.
·        Minimum 5-year industrial maintenance experience required.
·        Knowledge of electrical systems, hydraulics, PLC, TPM, micro processing, pneumatics, power transmission applications, conveyor systems, minor steel fabrication/welding, and machine shop practices.
·        Demonstrated oral and written communication skills.
·        Demonstrated supervisory experience in maintenance related areas.
·        General knowledge of National Electrical Code requirements and OSHA Safety and Health Standards relating to manufacturing industries.
·        Substantial mechanical aptitude.
·        Basic computer operating skills.
·        Clear, comprehensive understanding of preventative maintenance.
·        Ability to develop and/or implement clear, actionable steps in support of an overall production efficiency.
·        Proven track record of building reliability and preventative maintenance programs.
·        Ability to engage, inspire, influence, and coach people, effective team player.
·        Strong interpersonal and communication skills.
·        Ability to identify problems, determine root causes, and implement countermeasures.
·        Competitive pay and benefits commensurate with experience.
Starting wage $60K - $80K depending on experience.
Steel Creek Galvanizing, LLC offers standard benefits package including paid time off.
Computer access available at Cherokee SC Works office – 111-C Tiffany Park Circle, Gaffney SC 29341
or your nearest SC Works office
Office Hours:  8:30 a.m. – 5:00 p.m.
Or your local SC Works office
An Equal Opportunity Employer