Steel Creek Galvanizing, LLC - Maintenance Technician B
Post-Hire Training
Recruitment #97-60-03
| | |
| --- | --- |
| Company | Steel Creek Galvanizing, LLC |
| Date Opened | 11/9/2018 5:00:00 PM |
| Filing Deadline | 9/2/2019 11:59:00 AM |
| Location | Blacksburg, SC |
Introduction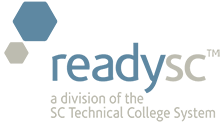 readySC™
in cooperation with
Spartanburg Technical College
is assisting with the recruitment and training for
Steel Creek Galvanizing, LLC
Steel Creek Galvanizing, LLC is launching a new facility in Cherokee County.  Designed to protect steel against rust and other corrosion, the hot-dip galvanizing operation will be an environmentally-friendly, zero-emission operation.  We are seeking qualified candidates for the start-up of our new facility in Blacksburg.
Potential employment opportunities exist for:
Maintenance Technician B
Job Duties:
·        Must be familiar with all the equipment to maintain it as required and follow routine/preventative maintenance schedules.
·        Install, repair, and maintain electrical apparatus, including electrical components of machinery and equipment.
·        Repair hydraulic cylinders, hydraulic valves, and pneumatic valves.
·        Perform periodic preventative maintenance (PMs) on all equipment and troubleshoot malfunctions.
·        Dismantle, repair, and re-assemble equipment as necessary.
·        Run power supply wiring to machines and equipment.
·        Run auxiliary cables and wires to machines and equipment.
·        Perform maintenance and repair work on buildings and offices.
·        Work to develop into Maintenance Tech A.
Experience Required:
·        High School diploma or GED equivalent.
·        Three years of maintenance experience in a manufacturing environment.
·        Prior galvanizing experience desired but not a requirement.
·        Working knowledge of health, safety, and environmental regulations.
·        Must be able to effectively and safely utilize ladders, manlifts, forklifts, overhead cranes, monorails, etc.
·        Must be able to work in an open environment exposed to extreme temperatures.
·        Must be able to obtain SCG forklift/crane certification.
·        Must be able to lift 75 pounds, able to climb stairs and ladders, and work at elevated heights up to 60 feet.
·        Requires clear vision at close distances for reading and inspecting and color vision for identifying wire colors.
Starting wage $13 to $16 per hour depending on experience.
Steel Creek Galvanizing, LLC offers standard benefits package including paid time off.
An Equal Opportunity Employer