Steel Creek Galvanizing, LLC - Pre-Treatment Operator
Post-Hire Training
Recruitment #97-60-09
| | |
| --- | --- |
| Company | Steel Creek Galvanizing, LLC |
| Date Opened | 4/2/2019 05:00:00 AM |
| Filing Deadline | 6/30/2019 11:59:00 PM |
| Location | Cherokee |
Introduction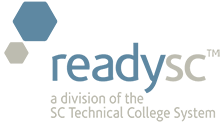 readySC™
in cooperation with
Spartanburg Technical College
is assisting with the recruitment and training for
Steel Creek Galvanizing, LLC
Steel Creek Galvanizing, LLC is launching a new facility in Cherokee County.  Designed to protect steel against rust and other corrosion, the hot-dip galvanizing operation will be an environmentally-friendly, zero-emission operation.  We are seeking qualified candidates for the start-up of our new facility in Blacksburg.
Potential employment opportunities exist for:
Pre-Treatment Operator
Job Duties:
Inspect all lifting equipment prior to use (forklifts, cranes, monorails, chains, slings, etc).
Inspect all material before galvanizing to insure material meets all safety guidelines and procedures.
Monitor all material flow through the pretreatment area for safety, quality, & production efficiency.
Account for all material that enters and exits the pretreatment area for piece count accuracy and proper material handling.
Inform Pretreatment Lead of any and all quality concerns and maintenance problems.
Communicate all safety concerns or accidents to the Plant Supervisor immediately.
Follow all safety guidelines and influence others to think of safety as a first priority.
Follow all established housekeeping standards and influence others to follow the standards.
Minimize equipment down time.
Extend the life of the equipment with proper maintenance and continuous evaluation.
 Experience Required:
High School Diploma or GED Equivalent preferred.
Prior Galvanizing experience is desired but not a requirement.
At least one year of forklift driving experience preferably in a manufacturing environment.
Must be able to work in an open environment exposed to extreme temperatures
Proven ability to operate forklift and obtain forklift/crane certification.
Must be able to lift 75 lbs. and be physically able to climb stairs and ladders.
Must be capable of boarding and un-boarding trucks for inspection and/or rigging.
Works independently with little supervision on assignments.
Displays a strong sense of ownership for work. Copes with ambiguity, change and uncertainty effectively.
Not hesitant to resolve lack of clarity, structure or definition of outcomes then moves ahead.
Demonstrates initiative, sense of urgency and, bias for action and is self-motivated when addressing work tasks.
Effective in oral and written communications at all levels and cross functionally. 
Well organized in both work habits and communications. 
Uses good time management skills. 
Works effectively in a multi-task environment. 
Executes tasks to completion within deadlines and tracks progress of on-going initiatives.
Identifies issues and opportunities, prioritizes and successfully implements them.
Uses a variety of cognitive skills and processes to arrive at sound decisions and solutions.
Assimilates diverse information and proactively presents solutions through detailed analysis.
Balances logic and intuition to arrive at well-founded decisions tempered by practicality and common sense.
Can build productive, trusting, respectful relationships at all levels in the organization and be a team player.
Continually strives to learn more to improve self. 
Sets high standards for self.  Actively seeks continuous improvement.
Good listener who asks questions and actively acknowledges key points.
Proven effective management and leadership skills and style.
Ability to lead well and work well in a multi-cultural environment. 
Starting wage $12-$16 Steel Creek Galvanizing, LLC offers health insurance benefits including medical, dental, vision, life, 401(k)  
An Equal Opportunity Employer